Creating a TikTok Video on Book Brush: The Perfect Trifecta of Easy, Efficient, and Effective
When you're an indie author you need to keep marketing at the forefront of your mind, and plan out your promotions as meticulously as you plan your next book, article, or blog post. And, since us indies are often operating on shoestring budgets, we need to implement strategies that will give us the most bang for our buck. Social media posts remain one of the best ways we can widen our reach without a large up-front investment, and it's a tactic many successful indie authors use on a regular basis. Arguably, the newest and shiniest social media platform is TikTok, where you can create and share short video posts.
But, why TikTok?
Video posts are a great way to foster authentic communication with your readers. Over the past few years many consumers have shied away from highly polished forms of advertising, and crave a "look behind the scenes" to see how their favorite creators really live. Everyone's feed can be personalized based on what accounts and hashtags they typically follow, and engagement levels can be through the roof. In short, video posts are great way for indie authors to get noticed by a large group of people, fast.
For the purposes of this article, I will assume you have a working knowledge of TikTok, and have already set up a profile. If you have any questions regarding this, head on over to TikTok Support so the experts can help you out. Now, let's talk about how we can make those videos both quickly and easily!
A quick note before we begin
Some creators exclusively film themselves talking directly to the camera, and while this is an excellent way to engage your audience, not everyone is comfortable being on camera, myself included. Nor is a video of yourself talking always the best way to convey the ideas and concepts behind your book. This article will show you how to make a simple, professional video that will showcase your book without you having to film yourself. Once you have this basic format down, you can tweak it to your heart's content.
Confused about what you should put in your video, or any marketing images? Well, let me answer your question with a question—what about your book do you want to promote? This post by L.A. Sartor offers some great advice to get you to the to get to that starting point of "what do I want to promote about my book?"
(And speaking of bang for your buck, you can repurpose the TikTok videos you make in Book Brush as Instagram reels. Work smarter, not harder, amirite?)
Without further ado, here's how it gets done!
The process can be broken down into a few simple steps:
Pick your template
Add a background
Update the text
Swap the placeholder for your own book cover
Let's begin!
Step 1: After logging in to your Book Brush account, go to the Custom Creator and select the TikTok template. It's the icon that looks like a musical note, which is circled in red in the screenshot below.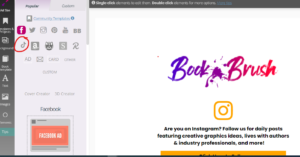 This is the blank canvas onto which you will build your design. It's already perfectly sized for sharing on TikTok (and for later repurposing as an Instagram reel, should you choose to do that).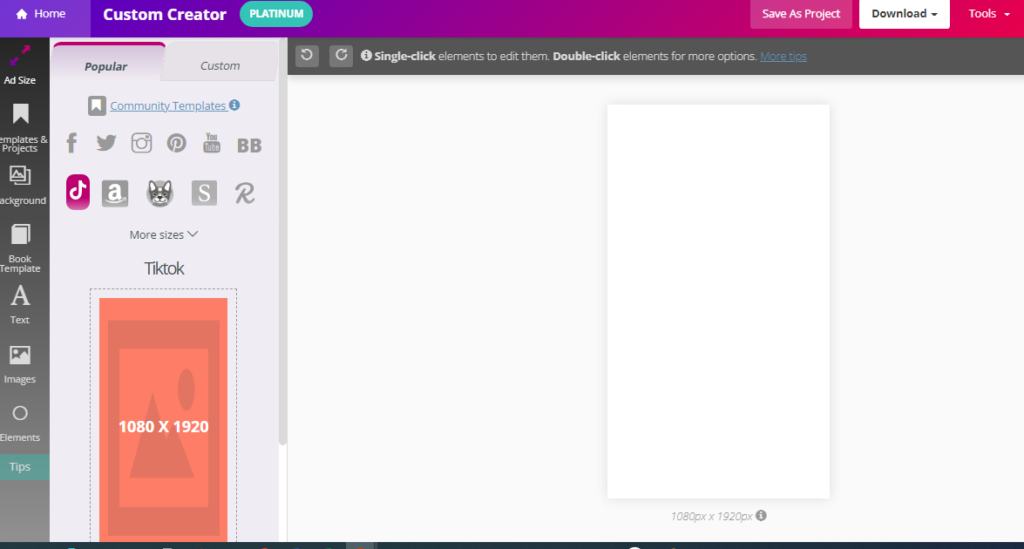 Step 2: If you want to make this process amazingly easy on yourself, take advantage of the premade Community Templates. To do that, first click Templates & Projects on the left vertical menu, then a set of tabs will appear. Click on the tab labeled Community Templates.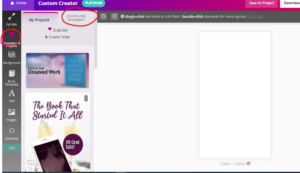 Holy cow, look at all the options! We're going to want to narrow this down a bit, so let's scroll down to the next step.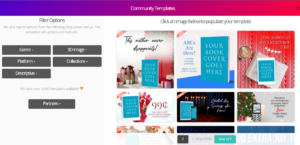 Step 3: Under the Collections dropdown menu, select TikTok Videos—it's highlighted in magenta in the screenshot below. After you select that, to the right of the dropdown, you will see an assortment of premade clips that will fit nicely into the template you selected in Step One. (FYI – you can resize other images and videos to fit inside the template, but this post is all about the basics.)
Now, you only need to look through the options, and find one that works with your project. Don't worry if the template you find isn't exactly what you were going for. We can tweak a few things to make it perfect.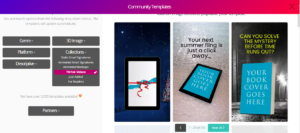 Once you pick out and click on the background you want, it automatically populates in your template! Nice, huh?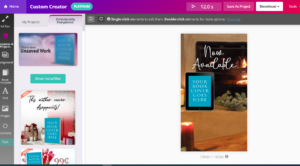 Step 4: Right now, you're probably wondering how you will replace that blue placeholder image (the one that says "Your Book Cover Goes Here") with your own book cover. Completing this step is super simple. Double click on the blue cover, and an options menu will populate on the left. Click on Swap Covers.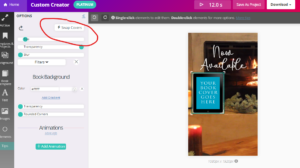 Step 5: After you click on Swap Covers, you will see the various book options you have available for use in your Book Brush projects. You can choose to showcase your book as a paperback, hardcover, or as an ebook edition readable on a phone or tablet. There are also audiobook options available. When you select your template keep in mind what formats your book is available in—for example, don't click on an audiobook template if you're not currently offering audio, etc.
After you select your basic book template, you'll be presented with all of the covers you've preloaded into Book Brush. Need to know how to do that? All the instructions on how to add a book cover are here.
All that's left is for you to select the book cover you want included in your template. The program will resize it to fit perfectly where the placeholder image was—no drag and drop required!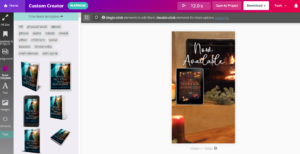 And, that's it!
Following these steps will take you from a blank slate to a complete TikTok video in a matter of minutes. Can you add more to your creation, such as additional text, effects, and/or sound? Of course you can! You can also change the background, add a completely different video, alter the font—really, the sky's the limit.
While I haven't done the math, just eyeballing the myriad options we can find preloaded in Book Brush tells me that we can make THOUSANDS of variations to the template we just walked through. In addition, Book Brush has webinars available, helpful Instagram and YouTube accounts, as well as a help function that contains answers to the most common (and some not so common) questions. Check out their support desk here.
If you're looking for even more information on using Book Brush to create TikTok videos, and why it's a great idea to do so, here's a blog post on how to use TikTok to boost your book sales.
And, here's an article by author Heidi McCahan that talks about her 8 favorite marketing strategies.
Well? What are you waiting for? Get out there and create!
---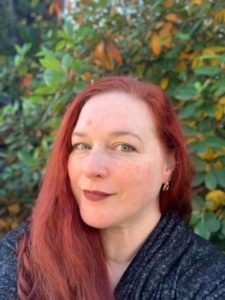 Article by Jennifer Allis Provost
Jennifer Allis Provost writes books about faeries, orcs and elves. Zombies, too. She grew up in the wilds of Western Massachusetts and had read every book in the local library by age twelve. (It was a small library.) An early love of mythology and folklore led to her epic fantasy series, The Chronicles of Parthalan, and her day job as a cubicle monkey helped shape her urban fantasy, Copper Girl. When she's not writing about things that go bump in the night (and sometimes during the day) she's working on her MFA in Creative Nonfiction.
Connect with her online here: https://authorjenniferallisprovost.com/