What Do You Want To Promote About Your Book Series?
Writing a series is a great way to continue characters your readers love, settings they can't get enough of, and conflicts that keep them turning the pages while wondering how it might be resolved in a future book. (I don't mean cliff hangers, but a character who will have her or his own book to solve an issue brought up in a prior book.)
In Sandy Appleyard's post, she talks about ways to create a series and shows some of her ads. In those she's promoting her free book in the series.
But I don't have a free book, you say. I don't either, but I have multiple series.
So, the question becomes, what do I want to promote for each series?
Promote Your Latest Release In The Series
My new release in the series is Brushed By Betrayal, so I want that cover bigger, different or more prominent. To see how Dare To Believe looks next to it, I brought in several iterations using various 3d templates from the 100+ Book Templates available.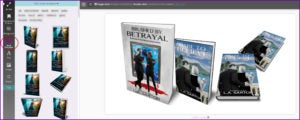 Tip: you can pull anything item(s) off the workspace and find them again by using the eyeball, to make the entire space visible. I use this tool all the time.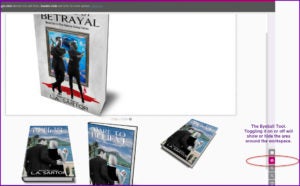 Here is my finished product. I used my series logo, so it's recognizable when you go to Amazon (using Amazon +) or my website.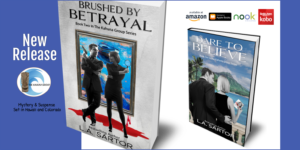 Tip: I made the retailer strip in Book Brush by adding them all on Book Brush's work surface, sizing and centering, then downloading it as a PNG file to my computer and bringing it back it into Images. Fast and easy to use whenever I want.
My Series Can Be Read or Heard!
This is a great way to show your readers how many books you have available multiple ways. After all, we want them to read or hear our stories however it best suits them. Don't expect them to know what you have. Tell them.
This time I used Community Templates, searching for "Collage." There are a large number to choose from, which makes it fantastically easy.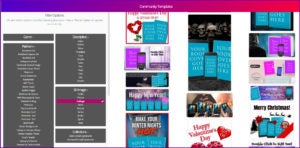 I chose one template that shows all the different devices a reader can choose to read/hear my series.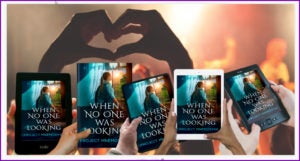 Remember each of the template elements are editable. My suggestion is that you edit at least the book covers them before saving the template as a project as it's the easiest way to make sure you have what you need. Each 3d image has that lovely lightning bolt in the left corner to switch covers.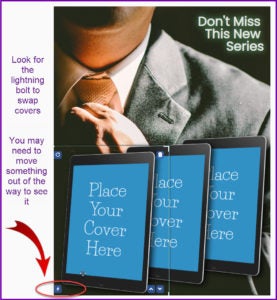 Change the background if you want and then add text and stamps/images.
Here is my final version. As you can see, I changed the background, removed two of the 3d hands and added a 3d audiobook image and a text box.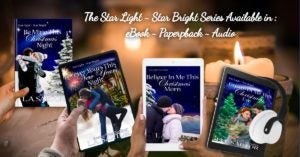 Animated Ads Will Draw Attention To Your Series
In this post, I discuss how and why I created animated ads as well as show you three ads. I'm using one here to show you how fun they are.
Movement always captures the attention. This is a great way to show you simply have a series and perhaps by adding the series tagline, you'll snag more readers.
Adding Intrigue To Potentially Gain Newsletter Readers
What if you're plotting, have partially written, or close to releasing the next book in your series? Sure Book Brush has amazing reveal covers and here is a post on launching a book, but what I've done below is a bit different because it's showing your current books and a teaser that is unique to your series.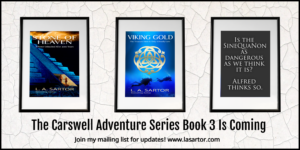 Notice that I'm not saying when the book is going to be released, or showing any part of the new book's cover, which in this case hasn't even been made. I'm showing my series with the teaser to entice folks to sign up for my mailing list to find out more.
I started from scratch, using the 3d frame Book Template. The third 3d cover I already knew was going to have a shape covering it, so didn't matter which cover I chose.
Then, as I typed in the text, I suddenly knew I wanted it to be a question that would hopefully drive people to sign up for my newsletter.
I added a background texture, text boxes below and a border around the ad.
Pretty simple.
Again, I didn't say when it was coming, just that it was. Yes, it's a tease, but I've learned from past mistakes not to box myself in with dates that are too far in the future. People who sign up for my newsletter will find out more. And hopefully read the other two books to see what I'm talking about 😊
Final Words
I've shown you some ways to show your readers that not only do you have a series, but what is happening with it. It's more than simply an ad that screams "Buy Me", these are intriguing ways to entice your readers to learn more about the series theme, characters, and plots that propel the series. It's new ways of enticing readers join your mailing list or to find out that yes indeed, one can listen to your books as well or buy one to add to their book shelves.
Make a list of potential ideas about that you want to say about your series, then go and play inside of Book Brush and see what you can create.
---
Article by L.A. Sartor
I started writing as a child, really. A few things happened on the way to becoming a published author … specifically, a junior high school teacher who told me I couldn't write because I didn't want to study grammar.
But the muse couldn't be denied, and eventually I wrote, a lot. I learned a litany of new things and published my first novel. My second book became a bestseller, and I'm absolutely on the right course in my life.
Please come visit me at www.lasartor.com, see my books, find my social media links, and sign up for my mailing list. I have a gift I've specifically created for my new email subscribers.