20 Top Book Covers That Grabbed Our Attention In 2020
As an author, I spend quite a bit of time looking at and thinking about book covers. At Book Brush, we spend a lot of time with book covers as well.
This year as we browsed through books, these 20 covers caught our eye. They may not be in a genre we often read, but in each case, we found these covers impactful and we paused. We looked more closely at how these covers convey mood, emotion, and the ambience that stopped us from scrolling on, making us want to look deeper into the author's work, and start that craving for a book break!
And isn't that what we're all attempting to do when designing book covers? Book Brush makes this process easier.
These author's covers are in alphabetical order.
THELMA ADAMS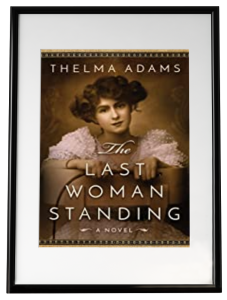 Two decades after the Civil War, Josephine Marcus, the teenage daughter of Jewish immigrants, is lured west with the promise of marriage to Johnny Behan, one of Arizona's famous lawmen. She leaves her San Francisco home to join Behan in Tombstone, Arizona, a magnet for miners (and outlaws) attracted by the silver boom.
Though united by the glint of metal, Tombstone is plagued by divided loyalties: between Confederates and Unionists, Lincoln Republicans and Democrats.
But when the silver-tongued Behan proves unreliable, it is legendary frontiersman Wyatt Earp who emerges as Josephine's match. As the couple's romance sparks, Behan's jealousy ignites a rivalry destined for the history books…
At once an epic account of an improbable romance and a retelling of an iconic American tale, The Last Woman Standing recalls the famed gunfight at the O.K. Corral through the eyes of a spunky heroine who sought her happy ending in a lawless outpost—with a fierce will and an unflagging spirit.
JACQUIE BIGGAR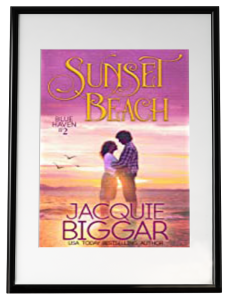 An explosive secret threatens the peace and tranquility of Sweetheart Cove
Single father Trace Michaels hands are full coping with a rebellious teenage daughter, troublesome ex-wife, and campaigning for the mayor's election. He doesn't have time to get distracted by an old flame from his past– one he's never forgotten.
When an unknown source leaks surprising news that could damage his career, Trace turns to the one person he trusts for the truth.
Single mother Mona Samuels knows how difficult it can be to raise a daughter. She empathizes with Trace, but when he comes to her for advice she's conflicted. They say the truth will set you free, but unburying the past could destroy everything she's worked so hard to build.
ALEXA BIGWARFE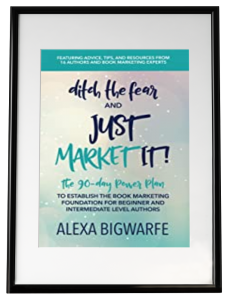 Is book marketing getting you down? Are you struggling with determining your target audience or creating a book marketing strategy? Do you not know how to market? Maybe the idea of marketing your book is gross to you. So many authors try to jump in without creating the proper foundation for success, leading to stress and frustration.
This book is going to teach you:
~the basic skills you need to effectively market your book
~how to find your target audience and get yourself in front of them
~what you NEED to do at a minimum to market your book
~how to create your book marketing strategy
~provide a 90-day power plan to make it happen
~encourage you along the way!
If you're going to be a successful author and sell more books, you're going to have to put in some time and effort.
But it doesn't have to be scary – it can actually be fun!
RL BLAISDELL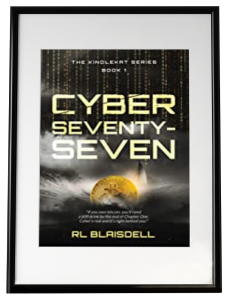 Husband and wife team, Blaze and Carla Heaton are forced to execute the world's largest heist in order to stay alive and destroy an insidious financial cabal.
Blaze and Carla Heaton planned to retire from the cyber-counter-terror business after their last adventure destroyed a Russian Mafia scheme and brought down a corrupt administration. And, then someone began stealing bitcoins from US cabinet members and the newly elected President pulled them back into the intrigue.
Aboard their luxury Seventy-Seven foot Catamaran, the Heaton's, their dog Kindle, and their Artificial Intelligence System named Kat take on a cabal of financiers exploiting the global crypto-currency markets. In order to stay alive, they will have to defeat killers, storms, hackers, and politicians as they criss-cross the the oceans.
Equal parts cyber, sailing, and crypto conspiracy Blaze and Carla's adventure will make you question everything you thought you knew about bitcoin, crypto currencies, and the people promoting them.
ASA MARIA BRADLEY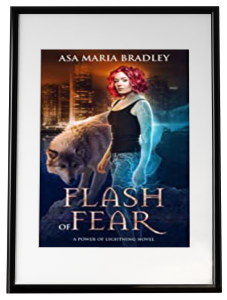 Lightning gave her powers, but she paid a steep price.
As a child, forensic artist Molly Nyland survived a freak lightning strike that marked her skin with Lichtenberg figures and gave her unique abilities. She can now tell when what people describe doesn't match what they actually witnessed. But if her powers are exposed, the countless criminals she helped put away could all go free.
Assigned to a brutal murder case, she has to work with a new partner, a detective she briefly hooked up with five years ago. To her dismay, the sexual tension between them still sparks hot and heavy. It makes Molly want to do stupid things, like rip the guy's clothes off, or confide her secrets.
And as more victims of bizarre ritualistic killings are discovered, it's clear that the town is dealing with its first occult serial killer. To catch the perpetrator before another life is lost, Molly must stretch the limits of her powers, not only to save her town but to actually stay alive.
ANNABEL CHASE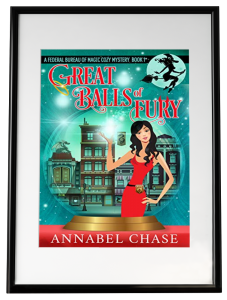 Welcome to Chipping Cheddar, where supernaturals are hidden in plain sight…
Annoying but loving family? Check.
Picturesque small town with a hot police chief? Check.
A rescue hellhound, a black cat with attitude, and a pet python that thinks he's a puppy? Triple check.
My story has all the hallmarks of a sweet and cozy supernatural tale, but there's a twist—
I am evil.
Well, I'm supposed to be evil thanks to both nature and nurture, but I fight it with every fiber of my being. I just want to live a normal life. I even joined the FBI instead of the Federal Bureau of Magic, until my powers reared their ugly head and the agency sent me packing back to my hometown to fight magical crimes instead.
Now I'm back in Chipping Cheddar, living with my evil family, with a new job and all my old baggage.
Oh, and there's a dead body, which was definitely not an accident.
So there you have it. Welcome to my world.
STACY CLAFLIN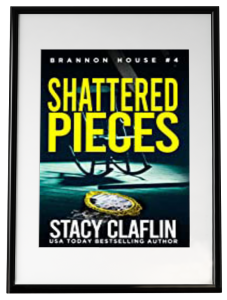 Most family ties are silken threads. Others are literally handcuffs.
Kenzi Brannon thinks most of her problems are behind her until she gets a call from the local jail. Her mother, a proven killer, is being released due to overcrowding. Blood takes care of blood, so there is no turning Regina away.
She returns to live at Brannon House.
A haunted house.  A house reputedly so cursed, some neighbors want it razed to the ground.
But her niece's friends and the rest of the town would love to explore. And Halloween seems like the perfect time to open their doors to the community. Despite Regina promising to be on her best behavior, Kenzi has concerns her mother might do something to ruin the evening.
It turns out far worse than she feared.
With innocent lives on the line, Kenzi must put a stop to her mother's maniacal actions—but first, she'll have to find her.
T.M. CROMER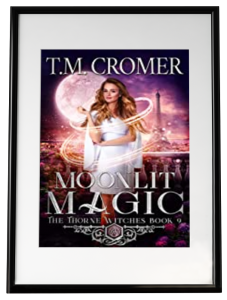 She refuses to be drawn in by his seductive charm…
Liz Thorne has suppressed her impulsive nature for the last four years because her one reckless weekend ended in heartache. Now, the dangerous, sexy man who tempts her inner bad girl is back, and he's trying his damnedest to bring the wild child out to play.
He's been unable to forget her…
Since the day Rafe Xuereb was recalled for his Witches' Council duties, he's lived with regret. Despite his magical skills, he's been unable to find the one woman who turned his world on its head. Through a twist of fate, Liz lands on his doorstep with his termination papers, and Rafe can't be more delighted.
A new enemy threatens to destroy them…
An unknown mystical force arises and begins to drain the Thornes of their powers. It has the potential to reduce the all-powerful witches to mere mortals, making them vulnerable to a rival family. Even as Rafe helps Liz, he lives with the fear that the secret he's hiding could cost the woman he loves everything.
KELLIE COATES GILBERT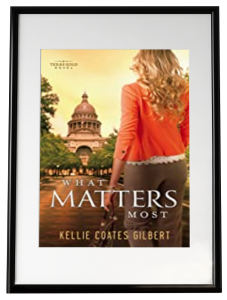 Just when she can't take it anymore, Lena finally catches a break. But when things seem too good to be true, they often are.
Finding her dream job went right out the window when Leta Breckenridge had to quit school to help care for her mother suffering from dementia. When a delinquent account may force her mother into a less desirable facility, Lena is thrilled to land a high-paying job at an Austin public relations firm. But her seemingly ideal job turns into a nightmare when she learns the firm is a front for political opposition organization—and that the research she's been collecting will be used against Nathan Emerson, the handsome senator she's swiftly falling in love with.
Nathan is a rising political star being pressured to run a bid to unseat the current governor of Texas. He's already in a relationship with a woman much better suited to be a politician's wife, but he's never met anyone like Leta. Could this feisty woman hold the key to his heart—and his future?
With emotional depth and keen insight into what drives us, Kellie Coates Gilbert offers a salient story that calls us to consider what we value most in this life.
TAMARA HART HEINER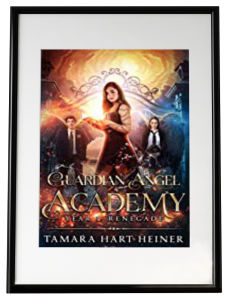 Evil exists. I know—I was created from it.
Most students at Guardian Angel Academy lived a good, possibly boring life on earth before their untimely deaths, which landed them at the academy, learning how to be good guardians for the hapless mortals still breathing.
Not me. My time on earth was spent as a servant of darkness, performing acts unmentionable to the undefiled ears of the angels at the academy.
But somehow, I was given a chance at redemption. Somehow, I got enrolled here. And somehow, I have to prove myself worthy of my angel wings.
Or I'll get sent back where I came from.
Now if I can just survive the weapons instructor determined to find me guilty of demonry, the mysterious dark angel who won't get out of my thoughts, and the hot-as-you-know-where angel who hates my guts because of who I am.
There is just one small problem . . .
I made a promise. A promise to the lord of the devils. If I keep it, my soul is forever damned.
But if I break it, I will be destroyed.
Welcome to Guardian Angel Academy.
KRISTIN HELLING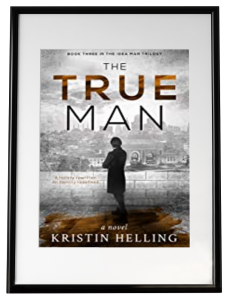 A history rewritten. An identity redefined.
Greysen Price now has the job he'd always wanted from the beginning. Adjusting to his new rank, he finds that the boss he thought he eradicated, wasn't really the boss at all. And this new, bigger boss has games of her own.
Parker Rubec is living his new life in Paris, when he gets a call about his parents that crashes his whole world. He must return home to Kansas City. In the meantime, Greysen pulls him back into a mess that could get him killed, but he reenters with a new confidence.
When Parker learns new information about his past, he questions his relationship with Greysen as he knows it, and the makeup of his whole identity. Parker must determine if it's worth saving or redefining.
JOANNE JAYTANIE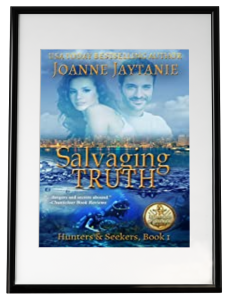 The world could be transformed if Riley can only stay alive long enough.
Most parents leave you a house, a car, or money when they die. Riley's mom left her a treasure hunt with a mysterious payoff. Now everyone seems to want a piece of Riley and her inheritance: the university, the military, mega corporations, and Russian spies.
Riley needs help to solve her mother's murder, and Dagger Easton's salvage and investigation company comes to her rescue. Retired SEAL, private eye, and leader of a diving and salvage team, Dagger promises to protect Riley with his life. But as the value of her mother's research becomes clear, Riley begins to believe there's no one she can trust—not with her life, her heart, or her mother's legacy.
MICHAEL LA RONN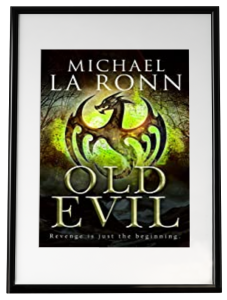 Old Dark has awakened from his deadly curse, one thousand years into the future, in a world overrun with magic where he hardly recognizes the dragon race anymore.
The old dragon lord's body is frail and broken, and he is locked away by Lucan Grimoire for the safety and security of the world. But his thirst for revenge has only grown stronger.
Dark dreams of escaping so that he can get his revenge against the dragons that betrayed him. Nothing will stop him.
But the world outside his cage is stranger and deadlier than Dark ever imagined.
Old Evil is the second book the epic fantasy series The Last Dragon Lord.
AMY M. LE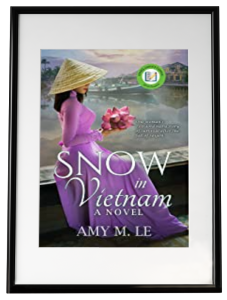 Growing up in war-torn Vietnam was normal, even idyllic at times, for Snow, the youngest of seven children in her family. Although her heart belongs to an American GI, she honors her father by marrying a Vietnamese man.
Her halcyon life unravels as the Vietnam War ravages her country and the threat of communism culminates with the fall of Saigon. Life in unified Vietnam under the new regime becomes unbearable.
Betrayed by her husband and left with a dying child to raise, Snow must set aside her morals and push herself to the limit emotionally, physically, and mentally, to buy her way out of the country. Her decision to escape and find sanctuary in America takes her adrift in the South China Sea and the Gulf of Thailand with her daughter, nephew, and other boat refugees. For days, they are at the mercy of pirates, storms, and dire conditions.
Ultimately, Snow settles into a refugee camp on the island of Galang in Indonesia, but life there is deplorable. The threat of repatriation and the will to keep her family alive keeps her motivated to hustle for a ticket to freedom.
BECA LEWIS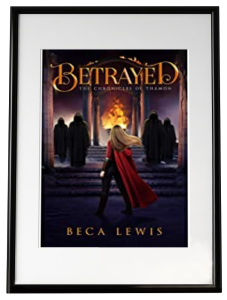 When betrayal is the name of the game, can anyone win?
As the tyrannical, man-made religion of Aaron-Lem spreads across the world like wildfire, banished shapeshifter Meg Portia struggles to come to terms with the weakening of her own powers. Her shapeshifting powers were what made her unique and special. Without them…who is she?
When the power-hungry leaders of the Aaron-Lem cult turn on each other, Meg's new home is caught in the crossfire. With her own powers fading, she must rely on her friends and allies to help her defend her home.
What Meg doesn't know is that unseen forces are at work, and her vanishing abilities have brought her closer to fulfilling a prophesy written thousands of years before.
Read Betrayed, the second book in The Chronicles of Thamon, and fall in love with these characters that choose friendship, goodness, and faith in each other in order to defeat evil.
ROBYN PEARCE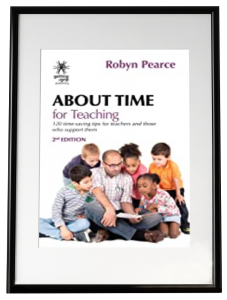 Time-saving tips to make the teaching and administration load easier
Does your precious teaching time seem to be shrinking? Do you support teachers but there never seem to be enough hours in the day to do your job? Dip into this vast resource of 'best practice' tips that teachers and administrators from many countries have shared with Time Queen Robyn Pearce.
Robyn's information is given in simple, easy-to-follow chunks – perfect for reading when all you have is 'a spare moment (literally!).
LARISSA REINHART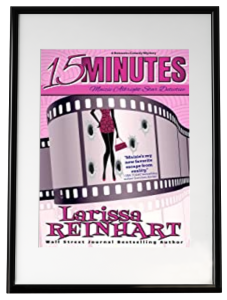 Three Teen Choice Awards, One Emmy Nomination, and several Maxim covers later, Maizie Albright was an ex-teen star, stuck in reality show hell, and standing before a California judge.
She has one chance for a new life: return home to Black Pine, Georgia, and get a job that has nothing to do with show business.
So why not become a private detective—the person she played during the happiest days of her life?
Maybe because…
First: She's got 10 days to get and keep the job.
Second: She has to convince the only private investigator in town to hire her.
Third: She lost the client's wife on the first day. (And the woman may be dead…)
Fourth: She just might be falling in love with her new boss. And she just might have lost him his business.
But what has she got to lose, other than imprisonment, her dignity, and possibly, her life?
KAT ROSS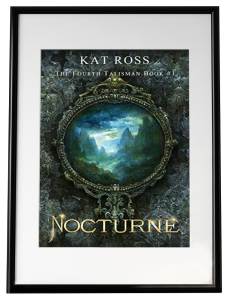 Nocturne, a wilderness of eternal night.
Solis, a wasteland of endless day.
Nazafareen is a Breaker, a mortal who has the rare ability to shatter spell magic—although her power carries a high price. With the memories of her former self erased and nowhere else to turn, she comes to Nocturne hoping to start a new life under the triple moons of the darklands.
But when an assassin forces Nazafareen to flee to the sunlit mortal city of Delphi, she finds herself embroiled in a deeper mystery whose origins lie far in the past. Why was the continent sundered into light and dark a thousand years before? And what really happened to the elegant but ruthless creatures who nearly reduced the world to ashes? The new Oracle might know, but she's outlawed magic and executes anyone caught practicing it. Nazafareen must hide her powers and find a way out of the city—before it's too late.
As the net slowly tightens, something ancient and vengeful begins to stir in the arid death zone called the Kiln. A dashing daeva named Darius is pursuing Nazafareen, but so are a multitude of enemies. War is brewing again. Can she stay alive long enough to stop it?
JULIE SMITH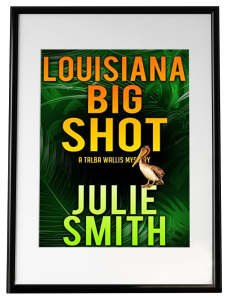 WANTED: HOTSHOT P.I. WITH NEAR SUPER-HUMAN SKILLS.
Confirmed grump Eddie Valentino placed the ad. Hotshot twenty-something Talba Wallis knew exactly how to answer it.
And thus was born the dynamic duo of New Orleans private detectives—one cynical, sixty-five-year-old Luddite white dude with street smarts, and one young, bright-eyed, Twenty-First century African-American female poet, performance artist, mistress of disguise, and computer jock extraordinaire.
Think Queen Latifah and Danny DeVito.
In Louisiana Hotshot, their job is to hunt down a sociopath and pedophile who's molested the fourteen-year-old daughter of their client, hangs out on the ragged edges of the rap and recording industries, and has more powerful allies than a Cabinet member.
But both detectives have unfinished business from the past—in Eddie's case, something he deeply regrets; in Talba's, a personal mystery, one so frightening no one will help her investigate. But she knows she won't sleep till she solves it—and the truth will change her forever.
LAUREN SMITH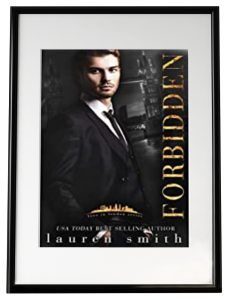 Kat Roberts has a plan. Love doesn't fit into it.
Move to England.
Study at Cambridge.
Become a history professor.
See? No room for dating or love. Life is going exactly according to plan….until she met him one snowy night in an English pub. Tristan Kingsley, the future Earl of Pembroke. He's as gorgeous as a god, funny, sweet, and oh-my-god that accent… With a chiseled jaw, bewitching eyes, and a voice as smooth as a glass of brandy…he's every woman's dream. He tempts Kat to leave her carefully laid plans behind as she falls head over tea kettle for this British playboy.
Tristan Kingsley went into the bar that night to avoid the duties of his future as a titled lord. When a gorgeous American girl kisses him on a dare from her friends, that kiss turns his world upside down. Oh, he's used to having exactly what he wants: women, money, notoriety. But now he wants Kat. In his arms, in his bed—and the more time he spends with her, the more he wants her in his life. Tired of shallow, social climbing English debutantes, Tristan can't get enough of his brilliant, sweet Yank.
But not everyone is happy with the situation. His father, the Earl of Pembroke, has other plans for Tristan, and getting rid of Kat is number one on the list. If you thought this was a fairytale of a girl finding her Prince—er, Earl, and living happily-ever-after…then prepare yourself for one heck of an American Revolution.
---
And there you have the 20 covers we picked because they intrigued us enough to go deeper. As an author, this is what you hope to encourage your buyer to do…the cover grabs a reader, the blurb entices them and they click that buy button.
Book Brush not only has the tools to help you design your cover, but also can help with all your author media needs.
Article by L.A. Sartor
I started writing as a child, really. A few things happened on the way to becoming a published author … specifically, a junior high school teacher who told me I couldn't write because I didn't want to study … urk … grammar… That English teacher stopped my writing for years.
But the muse couldn't be denied, and eventually I wrote, a lot. I learned a litany of new things and published my first novel. My second book became a bestseller, and I'm absolutely on the right course in my life.
Please come visit me at www.lasartor.com, see my books, find my social media links, and sign up for my mailing list. I have a gift I've specifically created for my new email subscribers.