How to Find an Audiobook Narrator
In the last ten years the popularity and production of audiobooks has exploded. It's become easy and affordable for authors to produce their novels into audiobooks, but where do you start the process?
One of the most important steps in turning your story into an audiobook is choosing the right person to narrate it. There are thousands of audio narrators waiting and interested, but how can you find the best narrator for your book and how can Book Brush help you find that narrator?
Start with knowing what you want in terms of performance from your narrator.
Listen to a few audiobooks and determine what you like or don't like about a prospective narrator's voice for your book.
Seven aspects of a narrator's voice to determine in advance:
Gender – male or female? Do you want more than one narrator?
Age – youthful, adult, mature?
Accents – be specific.
Pace – how fast should the story be read? Fast and intense or slow and languid?
Genre + audience – a horror novel will be performed by a narrator differently than a sweet romance.
Tone – smooth, breathy, raspy, hard, sassy?
Register – soprano, alto, bass?
Create a budget
An experienced narrator will cost any where from $100 to $500+ per complete hour of narration (most are somewhere in the middle of this estimate).
On average, a narrator will read about 9000 words per hour, so if you have a 55,000-word novel, the finished audiobook should take just over 6 hours. A 75,000-word book will likely take over 8 hours.
This is just an estimate, your book could be read much slower or faster, but this average rate of words per hour can give you some idea of what the cost will be.
You can reduce this cost by as much as 50% by entering into a revenue sharing agreement with your prospective narrator. Usually this means you agree to pay the narrator 20% of the royalty you, the author, would receive.
Create a cover (this is where Book Brush comes in!)
Even once you've found a narrator, they may not be interested in working with you if your cover looks cheap. Narrators, especially in a revenue share situation, want to ensure that audiobook sales are likely to be enough to recoup the fee they've given up. A cover that looks like it was slapped together won't instill confidence in your audiobook. The cover matters to listeners and your narrator.
When I asked narrator Craig A. Hart if an audiobook's cover was important to him, and if it made a difference in his decision to work on a specific audiobook or not here was his response:
"It absolutely does, especially if there is a royalty share element to the agreement. While people (potential customers) shouldn't judge books by their covers–they still do, and if I, as a narrator, am hoping to recover some production costs via royalties, then I am going to take the existing cover into account when I decide whether or not to accept a project. In addition, narrators are also interested in building their portfolios, and might think twice about including a book with a really sketchy cover, perhaps choosing to avoid it altogether."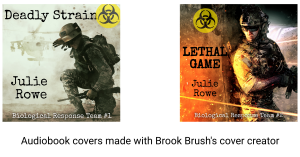 To create these covers I purchased stock photos from Shutterstock, then using Book Brush's cover creator I made them the right size, added text, and the biohazard image from Book Brush's image library.
More info on creating excellent DIY covers can be found in this comprehensive Book Brush blog post by Teresa Conner, 6 Design Tips for DIY Book Covers
With your voice wish-list and cover in hand, the next step is to decide on how you wish to publish your audiobook.
There are three main pathways:
Use a do-it-yourself platform
Work with a production studio
Partner with a narrator/producer
A DIY platform brings rights holders/content providers, narrators, and digital audiobook distributors together and facilitates the collaboration between all three to produce and distribute your audiobook.
After providing all the aspects of a narrator's voice that you're looking for, the DIY platform will provide you with a curated list of narrators who meet your needs. If you don't hear the voice you want, ask for more or tweak your voice wish-list, to receive more narrator suggestions.
The two major DIY platforms are:
ACX
Findaway Voices
Working with a production studio provides you with narration, sound effects, and music. It does not distribute your audiobook to vendors but does provide you with all of the final audiobook files needed.
Here is a list of five of the top production studios in North America:
Digital Sound Magic
Mosaic Audio
K-Train
Listen Up audiobooks
ProAudio Voices
Partnering with an independent narrator/producer means you'll have almost complete control over the entire process, but you'll also have to spend more time listing your project with voice data bases and auditioning narrators.
Three of the largest voice data bases are:
Voice123
Voices
Voice Jockeys
Audition prospective narrators
No matter which route you've chosen to travel, once you've heard a voice or two that might be perfect for your audiobook, you'll want to ask for them for an audition using a sample of text from your book.
Here's what your narrator needs from you to provide the best audition possible:
Choose an audition sample of your book that includes a variety of character dialogue and/or action. Usually between 500 and 600 words.
Pronunciation guide to any uncommon words or names
Genre + audience, be specific, list comparable titles
Tone, e.g.: dark, serious, thrilling, lighthearted, fun
Pace, e.g.: intense and urgent, slow burn, measured and patient
Feeling, e.g.: Gritty, dangerous, joyful, uplifting
Info on each character: age, gender, accent, tone, register, occupation
Once you've chosen a narrator, listen to their audition again and provide feedback on what they did exactly right and what needs to be changed before they begin recording. The more you communicate with your narrator the happier you'll both be with the finished product.
---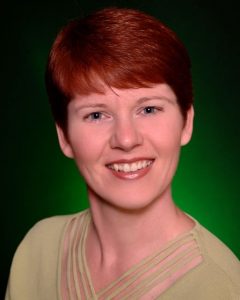 Julie Rowe's first career as a medical lab technologist in Canada took her to the North West Territories and Fort McMurray, Alberta, where she still resides. She loves to include medical details in her romance novels, but admits she'll never be able to write about all her medical experiences because, "Fiction has to be believable". Julie writes romantic suspense and romantic thrillers. Her most recent titles include Hell & Back book #5 of the Outbreak Taskforce series and Trapped with the Secret Agent book #1 of the Trapped with Him series. You can find her at www.julieroweauthor.com.