QR Codes: A Unique Way for Authors to Bridge Offline and Online Media in Book Marketing
As the societal tides have turned since the pandemic in 2020, most businesses have disposed of paper materials like menus, handouts, flyers, and pamphlets. They replaced those physical items with QR codes linking to a landing page with the same information. That means as an author, you can confidently assume your readers— although they might not know the name "QR code"— definitely have knowledge on how to use them, thus, will be able to utilize the code to your application.
What are QR Codes?
QR, or quick response, codes are the square barcodes you scan with your phone cameras to be redirected to a landing page. You just open your phone's camera app and hold it over the barcode. Once scanned, these codes usually lead to a webpage or app, but they can also connect to WiFi or contain a phone number or other type of data.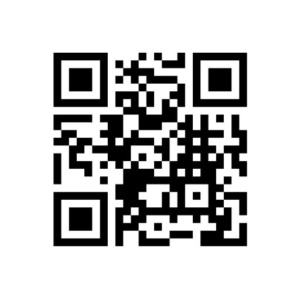 As users, we should only scan QR codes from trusted sources because they can lead to a phishing site. However, you don't need to worry about QR codes collecting your personal data. At most, a QR code can report how many times it was scanned, at what time, and with which type of device (iPhone, Android, etc.). That's way less information than website cookies store about you. So wipe the sweat off your brows, you are safe.
As a QR code creator, you don't have to worry about someone hijacking your QR code, so as long as you created the code yourself from a trusted software like Book Brush. I have included the one that I created.
Use QR Codes to Connect Readers to You and Your Writing
The remarkable thing about QR codes is they connect our physical and virtual worlds. How likely are you to type in an author's website after reading a hardback or paperback book they wrote to see their other books or find their social pages? What about at the end of an audio book when the narrator provides the author's information? If you answered "no" you're in luck. The majority of readers don't as well. You are far more likely to click a link at the end of an e-Book, then go typing in information. QR codes are essentially a clickable link on physical products allowing you the opportunity to further market yourself and your books just like you would on an e-Reader.
Where to Link Author QR Codes and Why
When it comes to where your QR codes send readers, think about your objective? As an author mine is always to sell more books, create a larger following/community, and to connect to my readers. I assume you share some if not all of my ambitions. So how can you do that? What do your readers want? Maybe they want more information on your published works, to be notified when the next book is out, to be part of your launch party or street team, to receive an ARC for your next book, learn more about who you are as a writer, what you are currently working on, find out your book tour schedule? The list is long.
Here are some places you can send your readers with a QR Code that will meet these needs:
Author Website
Links to where the readers can buy your books (a good one-stop landing page to all the places a reader can buy your book is www.books2read.com)
Newsletter Sign Up
Reader Magnet Book (free content)
Next Book in a Series
Audiobook Version
Social Media links (grow your audience)
Review links (i.e. Goodreads)
Event Calendar or Event Signups (Build your in-person audience)
More About Your Book/Series/Characters
Book Trailer (YouTube Video)
Your QR code should always lead your readers to content they value!
Where to Put QR Codes
As an author you should be placing QR codes on all your physical marketing materials and products. You want to make it as easy as possible for your readers to find your information including other books, your email list, signups, review sites and any other offerings. Remember QR codes should be put on "physical items." It does not make sense to have them on other landing pages, social sites, emails, or any other digital means. If you are asking "why," the answer is easy. You can embed links in anything digital thus making QR codes futile in these instances.
Here are some places you should put QR codes:
Business Cards
Doorhangers
Banners
Flyers
Book Swag (Bookmarks, Coasters, Hand sanitizer, Candy wrappers, Screen cleaners, Magnets, Stickers (which you can add to physical books already published), Buttons, Totes, etc.)
Media Kit
YouTube Video (A digital exception! Some readers watch YouTube on their TVs. A QR code at the end of the video will make it easier for them to go to your link.)
Anything Physical!!!
Here is my business card featuring my QR Code: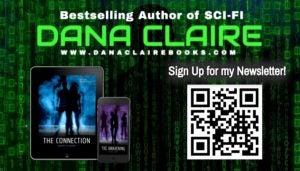 Here is an event poster featuring a QR code so in-person attendees can easily get more info:
Here is a fun bookmark featuring a QR code:

If you want something in your printed books to be more interactive, to be changeable overtime, use a QR code. Think about your "Also by Page". You need to update this page EVERY time you publish, but readers who bought an earlier printed edition won't have the revised list. A QR code linking to a sales page with all your published works will be current and updateable. No matter when your reader finishes your book, they can use that code to find all the other books you have out. Remember, where the QR code leads can't change, but what's on that webpage can.
QR codes are especially good at connecting potential readers to your reader magnet (your free incentive to readers to sign up for your email list). If you do a book signing, book fair, speaking engagement, conference, Cons (i.e. Comic-Con, Inkers Con, ApollyCon, WonderCon, etc.), or some other in-person event, you'll need an easy, fast, and effective way to connect your readers with your freebies. Book Swag is something they can take home and scan when they are ready to read your writing. For swag ideas & tips, check out 10 Distinctive Swag Ideas for Authors
How to Make a QR Code on Book Brush
Easy. Peasy. All you need to do is log into your Book Brush account. Here are the five simple steps.
Click on the Custom Creator
Choose your Ad Size
Select Element (tool on the left-hand side)
Scroll all the way down to the bottom where it says "Create a QR Code" and paste in your link.
Click Generate, Save and Download!
Once you create a QR code it will save in "My QR Codes" so you'll have them all at a later date to use. The latest created one will appear on top.
For more information, visit Book Brush's video that walks you through the process. Watch Now
Final Thoughts on QR codes coming from an Author and a Marketer
I've been an author for three years both self-published and traditionally published, but I've been in sales and marketing for twenty years. Being an author is no different than being a business providing a service or product. Essentially you are a brand. QR codes are an opportunity for a brand to get creative and connect to prospective buyers. If you use them to create a fun experience, your readers will be more likely to remember you and your books. You've already shown you have a creative side, you wrote a novel. Now have fun with the marketing side of it as well. Make a list of questions for a book club, a quiz, a short story about a supporting character, let readers vote on the title of your next book in the series, create a scavenger hunt for your readers with a giveaway upon completion, etc. The ideas are endless.
It's up to you to create the QR codes on Book Brush and utilize them to connect your writing and your readers.
---
Article by Dana Claire
Dana Claire is an award-winning Young Adult author whose stories explore identity, fate, and destiny in the crossroads of romance and adventure. With her love of romantic tension, the supernatural and non-stop nail-biting conflict, she has a flair for spine-tingling action and unforgettable characters. Dana has over twenty years' experience in marketing and sales and now shares her expertise with other authors through speaking events, conferences, book signings and more, introducing more readers to the worlds she created and helping authors take the next step in their book marketing strategies.
Dana lives in Los Angeles, CA with her adoring husband living her dreams: writing books, educating on book marketing tactics, and changing the world, one reader/author at a time. Learn more about her at Dana Claire Books.