10 Distinctive Swag Ideas For Authors
Swag? What's that? Basically, it's a gift you give away to promote your business. It can be made/printed by you or imprinted by any number of promotion companies.
Book Brush is your easy designing tool for all of this.
Swag can be:
Won by your newsletter recipients (I do this a lot and it works!)
Put on a table at a conference swag room (do this too!)
Handed out individually (book giveaway cards when I mention I'm an author and they swoon—joking about the swoon part).
So, let's get started.
Decide if you're promoting a single book or series, or you as an author.
The easiest swag to give away is a book. Usually, that's an e-book but will I periodically give away a printed book (and I put a bookmark inside) for a contest.
A Book Mark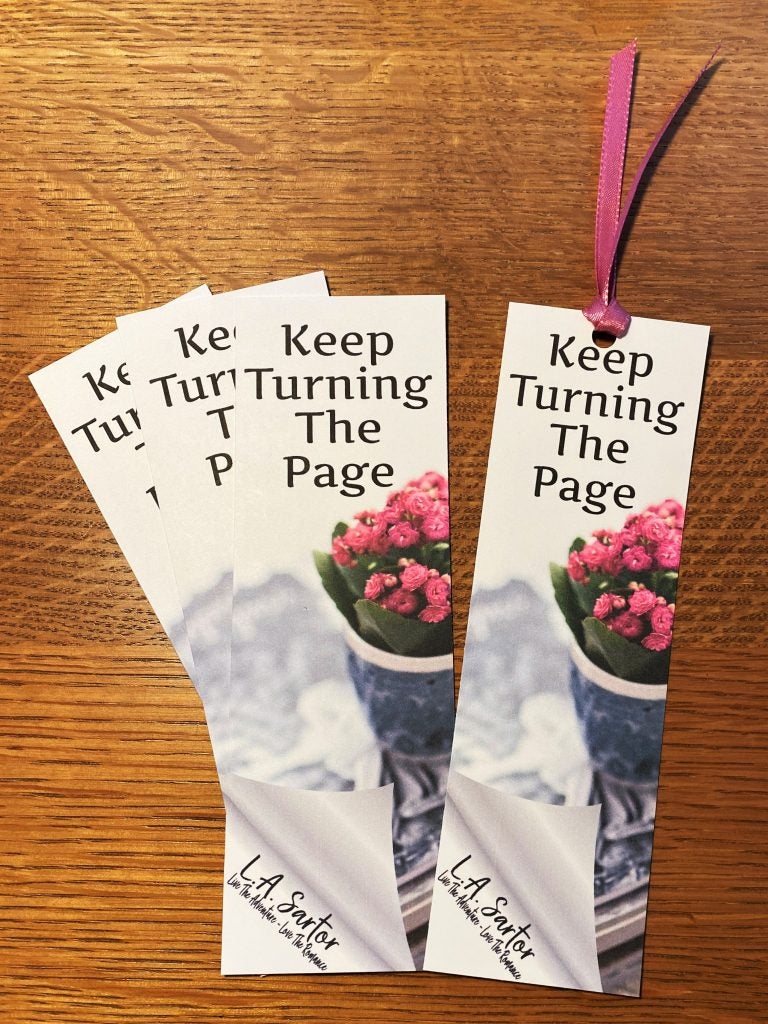 A Book Giveaway Card (check out this post on the Book Brush blog for a how-to)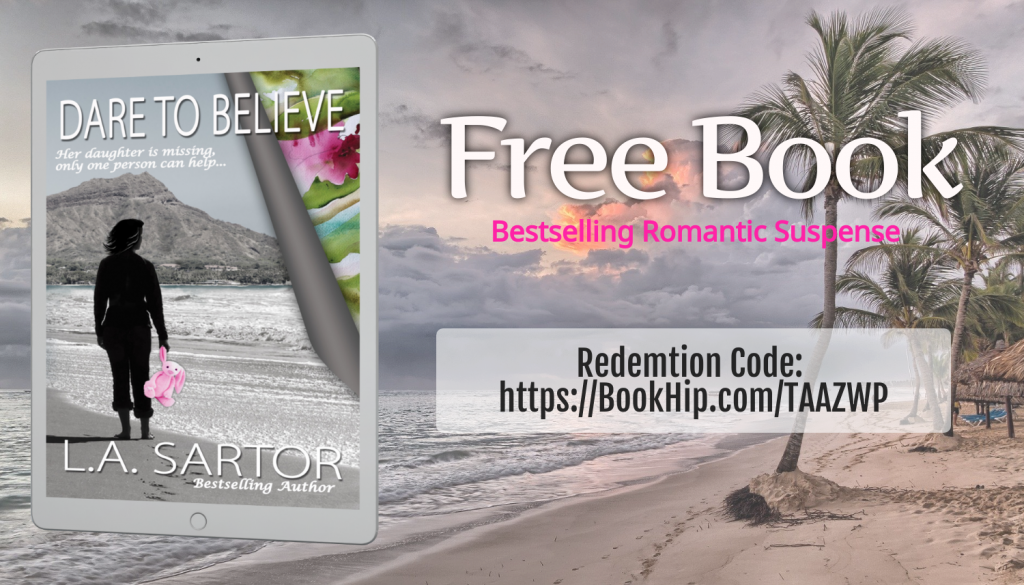 Both of these items will start out in The Custom Creator>AD Size>Other
Choose bookmark

I've found that I mostly use this size and then size to the template as necessary

Then have fun adding backgrounds, text and stamps. Quotes, tag line, web address, and punch a hole and put a ribbon at the top…so that every time they use it, they think of you.
Hint: On the back of my bookmarks, I'll often add a sticker (which I designed in Book Brush using the same path as above, picking business card) has a mailing list CTA (call-to-action) so they can't miss it.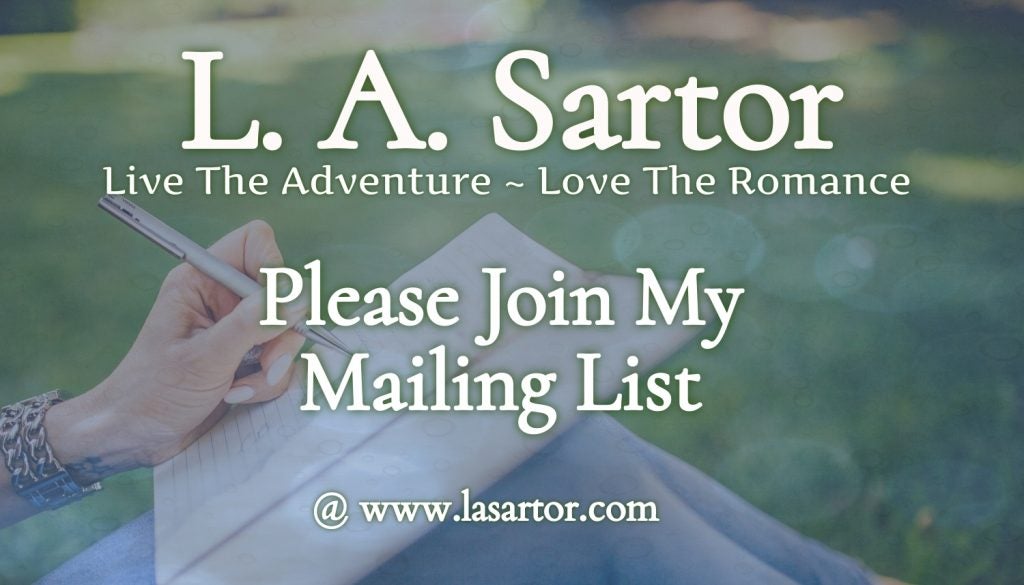 Print all of these yourself on pre-perforated cards and labels or send them to a printing company.
Coasters
I love coasters, I use them everywhere…to be honest I collect them. See the video here for the info on how to make them. I quickly designed this one.
Custom Creator>Ad Size>Other>Coaster
Size your design so it fits within the green dashed circle
I looked at stamps
Then added the text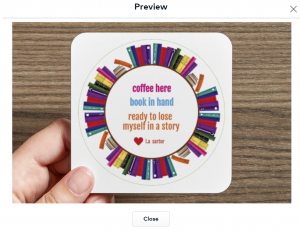 The preview is taken from the Vistaprint site.
Keychain Tassel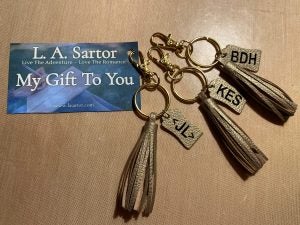 I offered these to my readers for answering a fun question. Biggest response ever from my mailing list peeps. I randomly chose the winners, put their names in my next newsletter asking them what initials they wanted.
If you want to make your own, this is how I did it. Blog
I attached them to my Gift For You Card made in the business card size, printed at home on pre-perforated business card stock I bought at Office Depot and punched a hole in the upper corner.
Tip: You can buy premade tassels at Michaels or craft stores online. Be sure to buy a bag of key chains and you're set.
If you want to make it extra special by some initial charms and add one. I know I'd love it
You can add anything to a keychain that relates to your book, so get creative, a friend added crystals to hers, then attached them to her card.
Door Hanger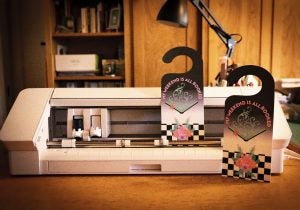 I give these away to book club members and put stamped my info on the back, but you can put that sticker you made with your website on the back that. Or that CTA card I showed above. Perfect reminder who made it!
Find a printing company (search for door hanger printing on the 'net) that will print them for you, then see what size they need for the image. Or print on pre-perforated cards, see list at end of blog for supply links.
Put the dimensions the company gives you into Book Brush Custom Creator>Ad Size>Custom and take it from there.
Notebook with Pen

Have fun shopping for notebooks that you can add a sticker to, a pretty pen, then for an extra, tuck a bookmark inside. You'll have fans for life.
NOTE: I wanted to go with a promotional company to print on a notebook, but they were very expensive for full color, so this is my workaround.
I made the image above in a business card size, but again, depending on the size notebook you can use the same directions as the door hanger above to make the custom size you want.
I printed mine as a photograph, and carefully glued it to the front of the notebook.
You can add to the inside cover a sticker of your business card so they can remember how to contact you.
Mugs

Who doesn't love a mug?
I'm going to let you in on a big secret of mine. I work with an amazing company called Printed Mint. I asked them if they would work with authors for promotional gifts and not need a resale (state) license. They said YES.
They'll print the mug and ship it in very cool packaging that you can somewhat customize for you. Sure, you pay shipping, but you would anyway right? They do it all. You design in Book Brush!! I did have to fiddle with size a bit once on template, but that's a common occurrence.
I took the basic idea I used for the notebook and made as an Instagram size of 1080 x 1080. Custom Creator>Instagram (which looks like a camera)>Photo
Then brought in my background,
Typed in the saying again
Used my signature and my tag line from stamps (I imported them into stamps after I made them)
Tip: Remember stamps is just another word for images you bring in. It's a way of layering your images.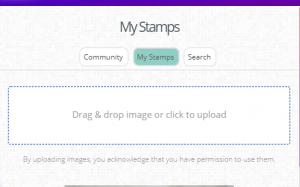 Mouse Pad
Okay, this one took me a bit of figuring out, but I think I've done it so you don't have to do too much fiddling. The preview above and my directions are for Vista Print, but I honestly think it would work for any promotional company.  Custom Creator>Custom Ad
Your dimensions (see image below)
Then:
Added my same background.
Added the text
Added my sig stamp and tag line
Then I needed to make sure I was inside the printable area of the mouse pad.
#1 turned on the eye so I could see the entire image and move accordingly
#2 turned on the grid so I could figure out where I wanted my design to start
#3 after trying a few times, I found out if you use the first grid line as your border that should allow your design to fit within the printable area of the mouse pad.
Then upload to your favorite swag printer. While this is a pricier item, it can make for great swag.
Magnetic page markers

Okay, this is one of my favorite gifts to receive.  You can make this, as I did below, and here is a link to show you how. I used ribbon on two, and adhesive vinyl for the other one. Then I thought…contact paper.
The vinyl and contact paper you'd need to make double-sided, sticking to itself basically so the joint in the middle isn't sticky 😊 While Megan's blog suggests a ¼" gap between the two magnets for the fold, I use a tooth pick width. Works perfectly.
Supplies are adhesive magnet paper, ribbon, adhesive paper/vinyl/wallpaper, scissors.  Or you can buy these, just look for sales. I found a ton of them online at all price points. Clip one or two to your Gift To You card you've made and pop them in the mail.
Tote Bag
While purchasing tote bags can be a significant outlay, if you create a design that is evergreen, meaning not specifically for one book, you can get a lot of mileage out of them.
I designed this logo in just a few minutes. Custom Creator>Ad Size>Card>5×7  I picked this size as the imprint size for this bag was close, and you can generally size it enough in a template or mockup to make it work.
Searching through stamps, using the phrase "woman reading", I found this lovely lady atop a stack of books. 
I added my tag line in a normal font
Then "Novels by" in a slightly lighter font
And finally, my signature in the same red
Opening the grid, I made sure everything was centered and then saved as a template and downloaded as a .JPG
So now you have 10 swag item ideas where you use Book Brush to help you create.
Have fun, be creative.
Supplies
Business cards
With micro-perforations from either Avery or your favorite office supply store. Be sure to download the template
Printable bookmarks
A company I found online who was incredibly helpful. Burris Computer Forms. Bookmarks, door hangers, and more. www.pcforms.com Be sure to download the template
Mugs
Printed Mint (see above), Vistaprint
Stickers
Online Labels, Office supply stores
Coasters
Vistaprint
Bags
Discount Mugs
There are a gazillion companies that can print for you once you have your design created in Book Brush, I chose these because I could do a mockup to show you. Please do your homework and make sure you're happy with the company you choose.
---
Article by L.A. Sartor
I started writing as a child, really. A few things happened on the way to becoming a published author … specifically, a junior high school teacher who told me I couldn't write because I didn't want to study … urk … grammar… That English teacher stopped my writing for years. But the muse couldn't be denied, and eventually I wrote, a lot, some of it award winning. However, I wasn't really making a career from any of this. My husband told me repeatedly that independent publishing was becoming a valid way to publish a novel. I didn't believe him even after he showed me several Wall Street Journal articles. I thought indie meant vanity press. I couldn't have been more wrong. I started pursuing this direction seriously, hit the keyboard, learned a litany of new things and published my first novel. My second book became a bestseller, and I'm absolutely on the right course in my life.
Please come visit me at www.lasartor.com, see my books, find my social media links, and sign up for my mailing list. I have a gift I've specifically created for my new email subscribers. And remember, you can email me at Leslie@LeslieSartor.com