5 Reasons Authors Should Hire A Social Media Manager
Social media plays an integral part in getting your author brand out there into the world. Social media management can seem overwhelming, especially if you're unsure how to get started on promoting your book online. This is where a social media manager comes in. A social media manager oversees a brand's social media account, consistently posts online, manages the brand's online image, engages with customers, and designs social media strategies.
Top social media platforms, trends, and marketing practices are constantly changing. Having someone to lean on who stays up-to-date on these trends is essential in staying relevant online and maintaining an online presence. The last thing you want is to get lost in the mix, but with a social media manager, they will get your author brand to stand out. Here are the top 5 reasons authors should hire a social media manager. 
1. Time Savings
As an author, you primarily dedicate most of your time to writing. Managing your own social media can be quite time-consuming, and it can be easy for your other tasks to get pushed to the back burner. With a social media manager, you give the reins of your social media over to them, so they can build up your online presence and engage with your audience. This way, you can dedicate more of your time to creating magic for your next book.
2. Building A Brand
A social media manager will learn about your brand, your vision, and your goals. They will be able to implement these into your social platforms. They will develop a comprehensive social media strategy and help reach your targeted audience to build your brand.
3. Track Performance
Social media managers will track and analyze performance metric rates, like conversions, post engagement, and rates. A monthly post-analysis will give insight into what's working, the best times to post, and what types of posts have the most engagement. Then they can create a strategy for how to approach the next month.  
4. Post Consistency
When it comes to social media, it's important to consistently post fresh and captivating content to keep your audience engaged and keep your brand fresh in their minds. A social media manager will stick to a schedule and create a consistent brand voice on all of your primary platforms. 
5. Audience Engagement
As your brand and presence on social media begin to grow, so will interactions and engagements on your posts. For your brand to connect with your audience, it's important that you engage with them. Replying to comments and messages will strengthen your bond with your audience. However, this portion takes time and commitment. This is where a social media manager comes in. They will engage with your audience for you and get the chatter about your brand started. 
Book Brush Social Media Management
As an author, you have a lot of tasks you have to juggle. Between writing, promoting your book, social media, etc., it can become a lot. What if we told you that there's a way you can get back to doing what you love to do? At Book Brush, we offer the opportunity for you to have more time to write, while we take over your social media platforms. Book Brush's full-service social media management will maximize your online presence and help build and flourish your author brand. Our team stays on top of trends, understands best practices, and creates content that's relevant to your brand. We will work on building your audience and continue to engage with them. You won't have to worry about your social media, when you have a hardworking team like ours do it for you. This will give you the chance to focus more on what you do best – write.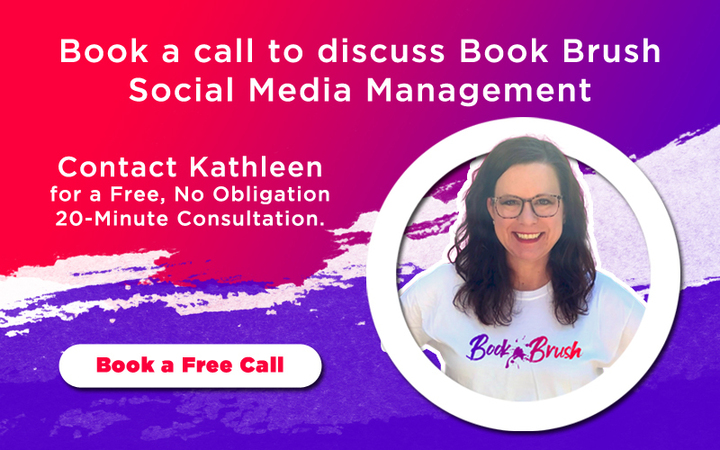 In Conclusion
Hiring a social media manager to handle your primary platforms will save you time, so you can focus more on writing, help you reach your goals, get your brand noticed more, etc. If you're looking for a social media manager to take over your online presence for you and enhance your author brand, Book Brush's Social Media Management is the way to go! We'll be able to grow your author brand together.