How I Used Book Brush to Support a Chirp Deal
Audiobook retailer Chirp Books is known for offering fantastic daily deals to its listeners. When I learned that A Royal Scandals Christmas: Three Holiday Novellas would be a Featured Deal in December, I knew Book Brush would be the ideal tool to bring the sale to readers' attention.
Video Trailer
When notified about the upcoming sale, I double-checked the book's metadata to ensure it was current on my website and all retail platforms. The book's video trailer was outdated, so I created a new one using tips I had learned in Book Brush's Book Trailers 101 webinar.
Rather than creating a trailer from scratch, I saved time by selecting a video from Book Brush's Community Templates that matched the length I wanted for my own trailer. I then swapped the videos and text in the template for videos and text that conveyed the romantic holiday experience readers could expect from A Royal Scandals Christmas. A few more clicks changed the music to fit the story's theme. I was able to find what I needed quickly using the search bar in the Trailer Creator to peruse the thousands of royalty-free videos and music clips in the Book Brush library, rather than search stock sites for that content.
Though creating the video trailer took more time than the rest of what I designed to support the Chirp Deal, it's an asset I can use to promote the book far into the future. When I finished creating the trailer, I made sure to save it as a Project on Book Brush. That way, should I ever change the book cover or want to experiment with different video clips or music, it will only take a few minutes to jump onto Book Brush, open the saved Project, and swap the current elements for new ones.
I then downloaded the new trailer to my computer and posted it to my website, to YouTube, and under the Media tab in my Amazon Author Central account so that it appears on my author profile page on Amazon. When the sale began, the video was already in place for anyone who wanted to learn more about the book.
Newsletter and Blog Graphic
I promise my newsletter subscribers that I will share sales news with them as soon as I hear it. To that end, I created a graphic to include in my newsletter to announce the Chirp Featured Deal on its first day.
I opened the Book Brush Custom Creator, clicked on Ad Size, and chose Facebook Ad. For the background, I frequently use one of the royalty-free images offered by Book Brush. However, in this case, I used a background I'd already purchased from a stock image site called DepositPhotos that captured the holiday spirit of the book. I uploaded that, then used the Book Template to add an image of my cover on an iPhone. Chirp is an audiobook-only retailer, so I wanted to show the book cover on a phone rather than as a paperback or on an ereader.
Since Chirp is new to many of my readers, I also included the Chirp logo on my newsletter graphic. That way, when they click through to visit the Chirp site, they'll recognize that they're in the right place. Book Brush has the Chirp logo available under the Image button on the left-hand column of the Custom Creator. All I had to do was click that image and it appeared on my graphic. It was easy to resize the logo and position it where I wanted simply by dragging the mouse. When I finished, in addition to downloading to my computer, I saved the newsletter graphic as a Project so I could make new versions of that same graphic for use on social media platforms.
Social Media
Once I had the newsletter graphic, it was a snap to create social media posts for Twitter, Facebook, and Instagram. The beauty of using the Facebook Ad Size for my newsletter is that I could reuse that graphic on Facebook without having to resize it. However, because many Facebook users scroll through their feed and look at the images without reading the accompanying text, I added the sale price to the graphic in order to catch their attention. When posting to Facebook, I set it so that anyone clicking the graphic would be taken directly to the deal on Chirp.
For Twitter, users also tend to scroll quickly, so I used the same graphic I created for Facebook, including that sale price. I only had to make one tweak: I changed the ad size to a Twitter In-Stream Photo. I had to enlarge the background slightly, but that was it. The entire change from Facebook image to Twitter image took seconds.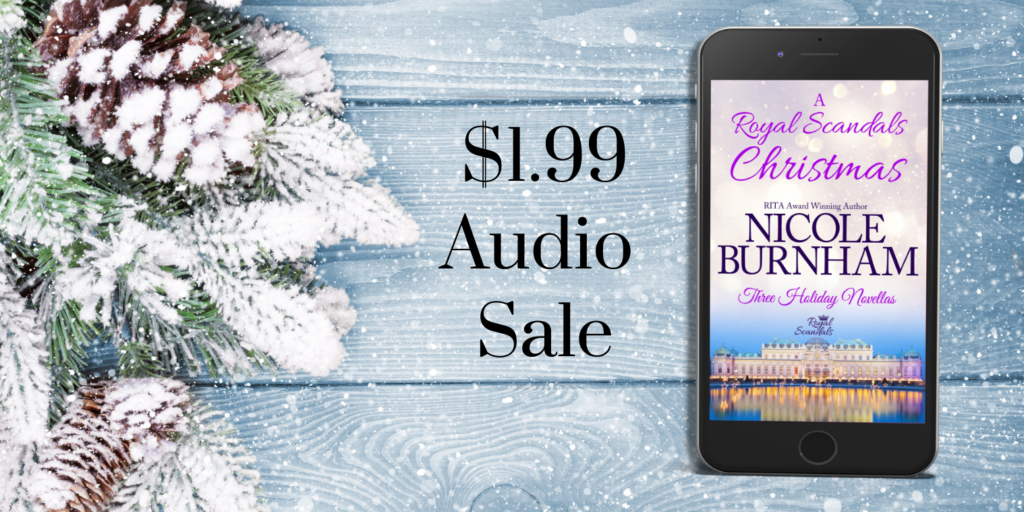 With a few clicks, that same image worked a third time as an Instagram post. I included the Chirp logo, the words "Audio Sale," and an image of the book cover on an iPhone. When posting, I ensured that the first few lines of description below the image—the text that appears when Instagram users are scrolling quickly—said, "Announcing the biggest sale ever on my audiobooks" to encourage users to click and learn more. I included a link to the sale in my Instagram bio.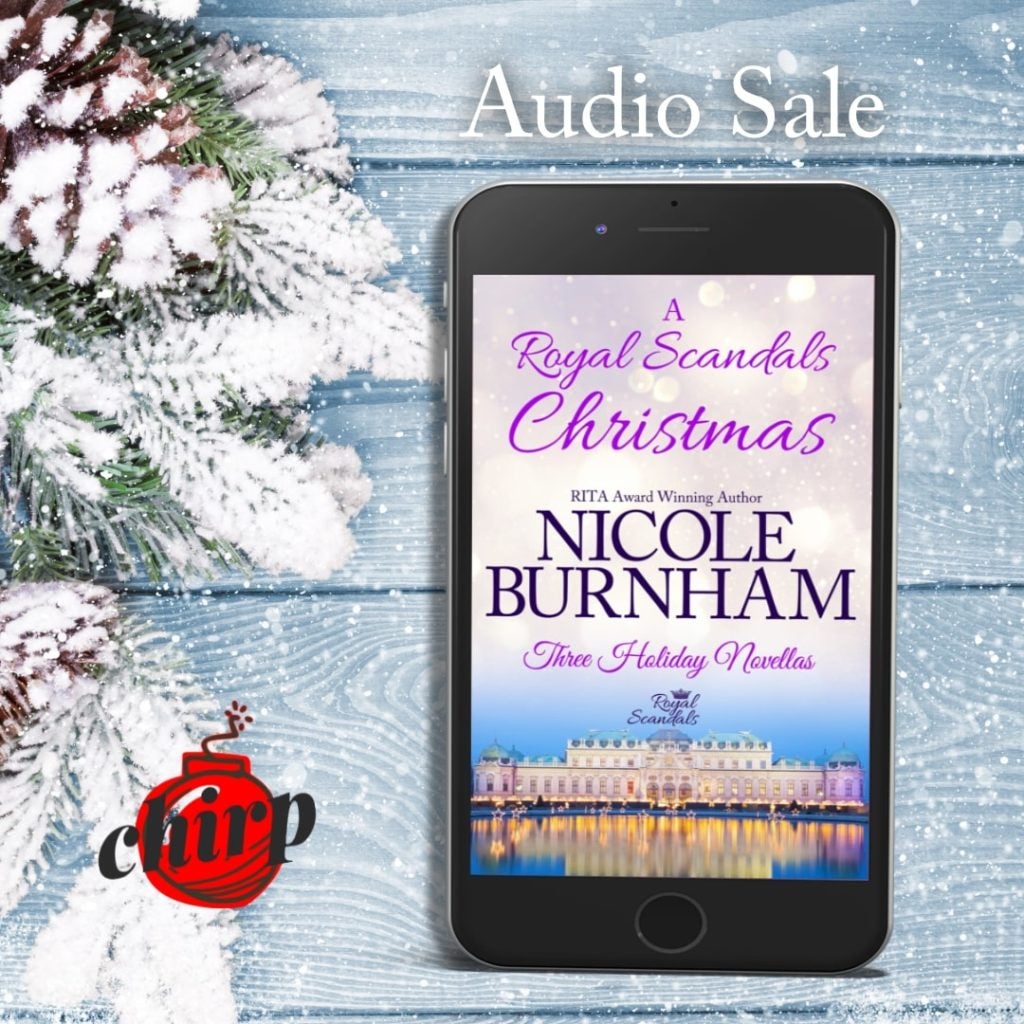 Instagram posts remain on the platform until deleted. Stories, on the other hand, appear for only twenty-four hours. Some Instagram users spend their time reading posts, while others prefer to quickly scan stories.
To ensure I captured both audiences, a few days after my Instagram post, I shared a different graphic as an Instagram story. I created it in seconds by using the Custom Creator and selecting Instagram Stories for the Ad Size. I chose a holiday-inspired color for the background, then used the Book Template to insert a photo of my cover on an iPhone. I sent the graphic to my phone and uploaded it to my Instagram story. Rather than include text on the graphic using Book Brush, I used Instagram's built-in text choices for posting Stories. This made the image feel more organic to Instagram and less commercial.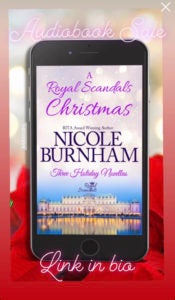 Going, Going, Gone!
Though the Featured Deal was on a holiday read, the sale ran through early January. A Royal Scandals Christmas: Three Holiday Novellas is part of an ongoing series, so I discounted several other titles to keep momentum going into New Year's and changed the look of my graphics accordingly.
For my first newsletter of the year, I took the original newsletter graphic and changed the background from the holiday theme to one that reflected an anything-is-possible feel. I repositioned the cover image to one side, then changed the text to say "Featured Deal" and reminded my newsletter subscribers of the sale, since they may have missed it during the holidays. I then used that same graphic on Facebook to catch any followers who may not have seen the original announcement.
In both cases, I noted in the text that other titles in the series were on sale. That way, if someone enjoyed the Featured Deal, they'd be tempted to go back and purchase other titles.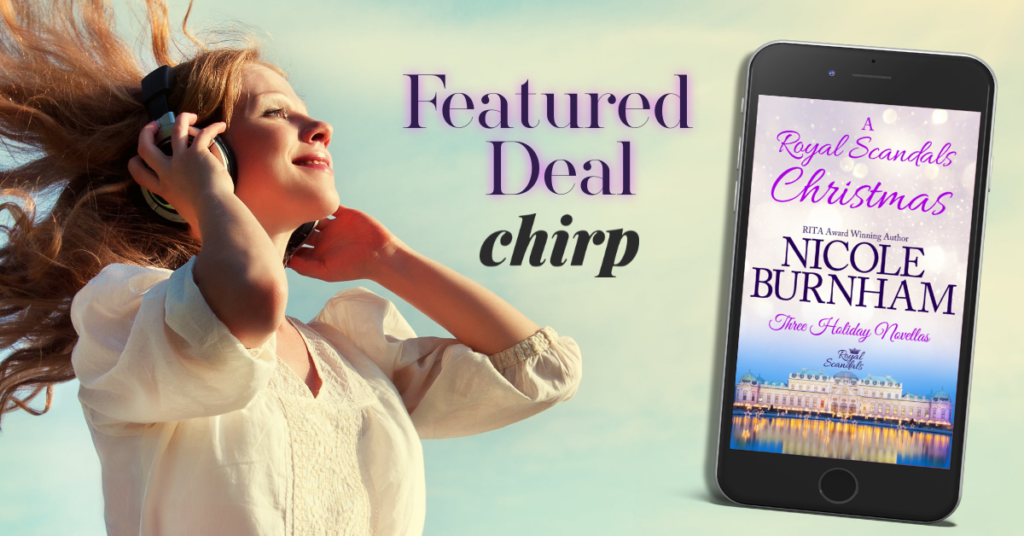 Next, I changed the background on that same graphic yet again, this time choosing a bright image with a set of headphones. I kept the cover for A Royal Scandals Christmas on the iPhone, but added audiobook covers for other titles in the series and changed the text to simply say, "Now On Sale." I posted this image to my blog with the subject line: Best. Audio. Sale. Ever.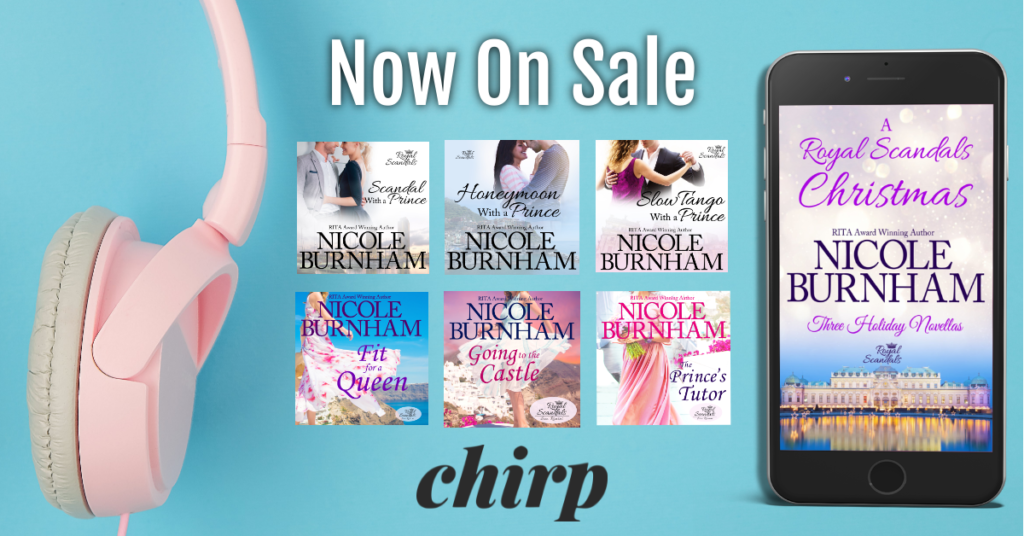 Finally, to further encourage sales on the series, I ran a BookBub ad and linked it to a page on Chirp that displays all of my audiobook titles. I used the image I had created for my blog, resized it by choosing BookBub Ad as a template, and deleted a few of the audiobook covers to keep them visible, given its smaller size. Since it was an ad and likely to be seen by readers unfamiliar with my work, I simplified the text to highlight that this was a sale on royal romance.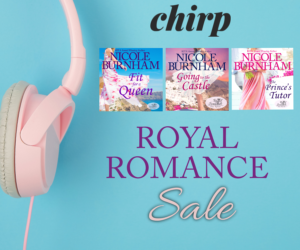 On the final day of the sale, I took the BookBub ad graphic, resized it for Instagram Stories, and posted it to my Instagram story with flashing text that said "Final day!"
It's easy to look at all these images and think, that's a lot of work. However, Book Brush made it simple.
Once I created the first image, it took seconds to switch the ad size and/or choose a new background to create a completely new image. It was far less time than it would have taken me to describe what I wanted to a graphic designer. Better still, each of those new images was tailored to a unique platform, encouraging those particular readers to click through to learn about my audiobooks and take advantage of the Chirp Featured Deal.
---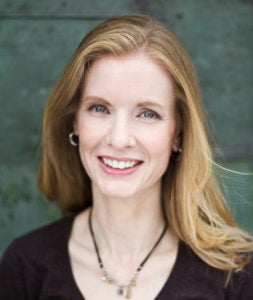 Article by Nicole Burnham
Nicole Burnham is the author of over twenty romance novels, including the popular Royal Scandals series, and is a RITA Award winner. She spends her non-writing hours traveling, watching baseball, and trail running. An obscene number of muddy shoes occupy the back of her car. You can find Nicole and her books online at https://nicoleburnham.com.