How To Make A TikTok Style Book Trailer
TikTok seems to be the rage right now and after reading Brianna Bennett's post about it, I thought why not make a book trailer in TikTok fashion. That means 15 seconds.
Why 15 seconds? Apparently TikTok has a commitment with their music provider for 15 seconds of free play time. (They do allow linked vids for 60 seconds and are considering 3 minutes.)
So, we have 15 seconds to promote our book. This short and snappy taste of your book doesn't have to post on TikTok, just be in the style and length of one. After all, people seem like shorter than longer in most social media visual mediums now.
Sound daunting? It's actually not.
Let's get started!
I'm going to use the Trailer Creator tool in Book Brush using the advanced mode and picking the TikTok size.
Standard procedure using the Trailer Creator tool is to generally bring in your background video first, as you can't do anything more on the timeline until then, but I mixed that up by listening to the music first and choosing one (making a note of the tab and song) already having decided that 15 seconds was going to make a visually fast experience and I wanted fast music.
But you could do just the opposite for style, making your video dreamy and flowy. It's up to you and perhaps the genre.
Usually I have a sense of what I want the whole video to be like, but on this one, I had no idea, so picked the music that resonated with me and that built the video around that concept.
Choose or bring in your video background
Now to bring your video to life. Start building your timeline by bringing in your video background.
Look through the video backgrounds … or do what I did, I created an animation in Book Brush's Custom Creator and brought it in as a saved MP4.
Once my background was on the timeline and shortened to 15 seconds, I could move forward with bringing the rest of my items.
Make it personal
Find a picture of yourself or take one. This is what I used from a past national promotion of Books Are Essential. Make your photograph fun.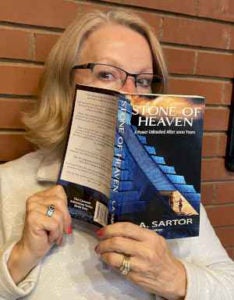 A big part of TikTok is seeing a person (or animal) in the video.
Tip: I learned this from an avid photographer. Whenever you're some place fun, have someone take your picture like this or some other pose you can add to using images you've brought into the Custom Creator: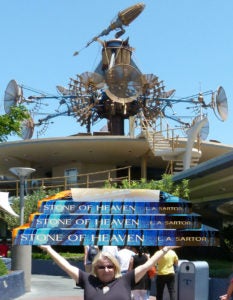 You can add interesting things on top, like me holding up a stack of books!
Once my image was on the timeline, I animated it.
Then I added my chosen music and shortened it to 15 seconds.
Tip: your music track will always be on the bottom, so as you add items to you timeline and you'll notice the music line drops down.
Keep it moving
Nothing in a TikTok video is going to be seen for long, so think about you want next.
I added text boxes to play on top of my animation they entered and exited quickly with the animations I added to them. This is where I figured I could pique the viewers interest with carefully chosen tag lines.
I brought in my book's cover and added a review quote. Again, animating them both.
The end
Since the time is running out I wanted one more video clip with a big bang finish at the end. The book ends with an explosion, so I found one in video backgrounds and added it to the end along with the title of the book and my name.
Tip: Whether you're working with animations in Custom Creator or videos in Trailer Creator, always turn on your computer's speakers as some of these have sounds already embedded in the video.
So here it is. I'm excited to use it where I can.
Remember, you don't have to use TikTok sizing which is a portrait (vertical) orientation as that works best on cell phones. You can create the same snappy, short video for Twitter and for FB, Instagram or other platforms by choosing that size template and then adjusting the size and placement of the timeline items on the screen. * You may have to re-add your music.
Most of all have fun with short, snappy creating.
More on using Book Brush's Trailer Creator (in easy mode)

---
Article by L.A. Sartor
I started writing as a child, really. A few things happened on the way to becoming a published author … specifically, a junior high school teacher who told me I couldn't write because I didn't want to study grammar.
But the muse couldn't be denied, and eventually I wrote, a lot. I learned a litany of new things and published my first novel. My second book became a bestseller, and I'm absolutely on the right course in my life.
Please come visit me at www.lasartor.com, see my books, find my social media links, and sign up for my mailing list. I have a gift I've specifically created for my new email subscribers.