How Authors Are Using Video Effects To Grow Their Reach
I've said it before, video is the way to capture the eye, thus interest. Good design is always important, so now let's combine the two!
Hint: For a quick overview video on using Book Brush's video effects, click here.
The first ad is a very simple, really 5 steps. I saved it as a template each time I completed a step…a good habit to form.
Hint: You can delete the other templates once your project is complete if you wish.
>Create ad size, I used the Facebook size
>Choose the video background
I searched for Wheat and chose one that looked similar to the cover, then I turned on my computer speakers…annoying sound of wind. So, I found a new quiet video😊 Sometimes sound effects are great, but….
Added an overlay and played with its transparency to make it look "old"
>Bring in the book cover as a stamp
>Added text
It felt a bit lonely, so I added a background to the text box and lowered the transparency
>Saved template one final time and downloaded to computer
This next one is a bit more complicated but only because I added more items.
>Create ad size, I used Facebook Ad size
>Choose the video background
I searched for Smoke and played with several until I found the right look
>Bring in the book cover in stamps (which remember is just another word for images)
>Bring in the Bell image into stamps
Added it as a layer
Sized it
Decreased its transparency
Added filter
>Bring in the candle image into stamps
Added it as a layer
Sized it
Decreased transparency
>Added two boxes of text.
>Saved template one final time and downloaded to computer
Notice that when the smoke undulates, it looks as if the bell is moving and the flame flickering, giving the meme a cool and unintended sense of movement.
On this one I wanted the top of the Maya Pyramid to seem like it was a beacon as I couldn't find the kind of fire embers image I have in the book.
>Created ad size, Facebook ad again
>Choose the video background
>This time I sized and moved the video to where I wanted the beacon to be.
>Brought in my background image into stamps
Sizing and moving it until the top of the pyramid was right under the beacon
Decreased its transparency until I liked how much the beacon showed through
>Added my 3D covers
>Added Text
>Added 3 stamps
I decreased the transparency of them to match the feel of the background.
>Saved template one final time and downloaded to computer
So far we have moving video effects, but they stay still, sounds like an oxymoron, right? You'll see what I mean in a minute.
This ad moves the scenery. There are many video effects in Book Brush that do this and it's quite effective. It sets the scene.
>Created Ad Size (I used Instagram this time)
>Choose the video background
Searched for Waterfalls, and had a hard time choosing, but knew I wanted it move not be a static video effect, if that makes sense.
>Added my 3D book
Sized it until I liked it and as the video is so dramatic, I made my cover quite large.
>Added Text
These are tag lines from my Amazon site and on the back of the book.
>Added retailer stamps
>Shortened the video
I did this so the bottom of the waterfall which is a pile of black rocks doesn't show as much. Sizing the video in this case didn't work to hide them.
>Saved template one final time and downloaded to computer
This video ad is done in Book Brush and one final bit of work is done in Windows Photo Viewer.
I brought this one in because it adds another dimension. I know at some point, the way Book Brush is always moving forward, they'll have music. But right now, you can do this in Windows or iMovie, simply and it's fun. Hint: turn on your speakers 😊
>Created Ad Size (I used FB ad)
>Choose the video background
>Added my 3D book
>Added Text
>Added retail stamps
>I saved the template and then downloaded it to my computer
HINT: you can rename the file so you know what it is, just always keep the .mp4 file extension.
>Then I opened Window Photos
Left click the Windows icon, bring up your apps list scroll to P's and find PHOTO and click it.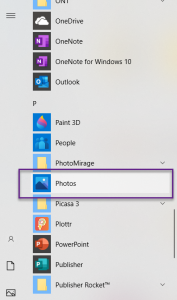 Follow the steps, truly it's that simple.
>You see you're in photos, now click New Video

>Add your Book Brush video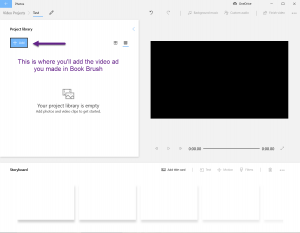 >Drag your video to the storyboard below, click on Background music, listen and choose.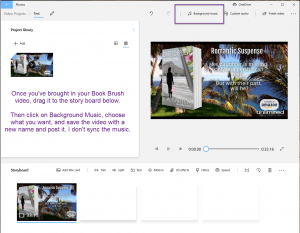 >Save the video as a new name, I usually add _music to my video file name and remember don't delete the .mp4 extension.
You can find how to add your own music to the video on my blog here. Remember it must be royalty free, you can't use your favorite new hit song.
From very simple to a bit more complex, Book Brush offers you endless ways to make your ad memes catch your viewers attention.
A couple of reminders:
You can shorten the video, but you can't make it longer
You can size the video but be cautious as too big will be blurry
You can move the video background
You can add filters and overlays to your video backgrounds.
Check to see if your video has sound attached, you may not want that
Save as a template often, then delete those extra ones once you're happy with your finished product
When you rename your file, DO NOT delete the .mp4 file extension
It takes a while to download mp4 files, they are large files
Please check out our Facebook group to see what other Book Brushers have created, they're pretty impressive. And please ADD YOUR OWN videos to the group and tell us how you did it.
Article by L.A. Sartor
I started writing as a child, really. A few things happened on the way to becoming a published author … specifically, a junior high school teacher who told me I couldn't write because I didn't want to study … urk … grammar… That English teacher stopped my writing for years. But the muse couldn't be denied, and eventually I wrote, a lot, some of it award winning. However, I wasn't really making a career from any of this. My husband told me repeatedly that independent publishing was becoming a valid way to publish a novel. I didn't believe him even after he showed me several Wall Street Journal articles. I thought indie meant vanity press. I couldn't have been more wrong. I started pursuing this direction seriously, hit the keyboard, learned a litany of new things and published my first novel. My second book became a bestseller, and I'm absolutely on the right course in my life.
Please come visit me at www.lasartor.com, see my books, find my social media links, and sign up for my mailing list. I have a gift I've specifically created for my new email subscribers. And remember, you can email me at Leslie@LeslieSartor.com