Going Wide? Why Authors Love To Use Draft2Digital 
Have you thought about taking your eBooks wide? For those who may not be familiar with the term, going wide means distributing your books through companies beyond Amazon. While Amazon has about 67% of the market, other companies, such as Apple and Barnes and Noble, also distribute eBooks on their platforms. Chances are you know some people who don't want to purchase through Amazon or have a Nook reader and want your book for their reader, not a Kindle.
Unless you're using Kindle Unlimited (KU), you might capture another 30% of the market by taking your book wide. If you have books in KU and you're getting steady reads, you won't want to consider going wide with them yet. But if the books cease to bring in the royalties, it might be time to add additional markets. I put my new releases in KU for the first six months, but if they aren't getting enough attention there, I publish them through Draft2Digital (D2D). This blog article on the Making of a Successful Author includes information on how publishing wide might increase your profits.
Top Platforms for Books
According to Firmbee, the top ten platforms for marketing books are:
Amazon Kindle Direct Publishing (KDP)
Kobo – a Canadian company
Apple Books
Google Play
Smashwords
Draft2Digital (D2D)
Blurb.com
One Read
Ingram Spark
D2D overs those listed in italics, which makes it the easiest, most efficient way to distribute to those platforms. D2D also publishes to:
Books2Read
Barnes and Noble
Scribd
Tolino
Overdrive
Bibliotheca
Baker & Taylor
Vivlio
Hoopla
BorrowBox
My Story
When I first added my book to another platform, I went to Barnes and Noble. While the setup is similar to Amazon, I felt it was cumbersome. Still, I published my book on it. Then I tried Apple. Same story and it needed an iTunes account. Also tedious.
Next, I heard about Smashwords, so I went through their process, which was more complicated and required specific book formatting. I'm no stranger to computer code, but this was not the easiest way to get your book online. But Smashwords had several distribution channels, so it proved worth the effort.
Eventually, someone pointed me to Draft2Digital. After publishing my first book, I was sold. So many great features and an impressive distribution. With an interface similar to Amazon's, it was easy to set up and use. The royalties are comparable to Amazon, and D2D has some features KDP doesn't have. Smashwords merged into D2D this year, making their storefront available to all D2D writers. So, if you want to expand your publishing horizon, take a look at Draft2Digital.
What is Draft2Digital
An independent, privately-owned digital publishing company, D2D was founded in 2012. The company's sales arm is Books2Read and now Smashwords, where readers can peruse the books offered. In addition, Draft2Digital will distribute your books to other booksellers and library services.
D2D has a beta program to produce print-on-demand (POD) paperbacks, but it is not yet at its full potential. When I tried it, I found the book quality below par and the shipping speed too slow. At this time, Amazon has the better product for POD books and is less expensive for author copies.
Overview of Draft2 Digital Setup
To begin using D2D, you must set up a user account. D2D will pay royalties by:
Check
Direct Deposit in the US and Internationally
PayPal
Payoneer
The account setup pages are easy to follow and contain explanation links.
On the Advanced User Options, you'll find some helpful setup pages:
Allow public book pages – this allows D2D and Books2Read to generate a book landing/sales page for each of your books. It also provides an author page similar to Amazon's, where all your books are listed with links.
Submit books to catalog sites – If enabled, D2D will submit your books to catalog sites, including libraries
Disables D2D-provided ISBNs – like Amazon, D2D offers free ISBNs for books published on their site. If you want to use your own ISBN, disable this. You always have the option of using your own.
Enables account sharing – allows you to share your account on a limited basis with another user. If you have an assistant who sets up your sales or needs to manage other aspects of marketing, you can allow them access.
Enable Territorial Rights Management – allows you to manage where you distribute your books in the international market.
Enable Apple-specific cover support – if you upload a 3-D style cover, this allows you to upload a 2D one for Apple.
Setting Up a Book
D2D's interface makes it easy to set up your book. The seven easy screens walk you through it. I've added a few notes with the screencaps to highlight the steps.
Create New eBook Screen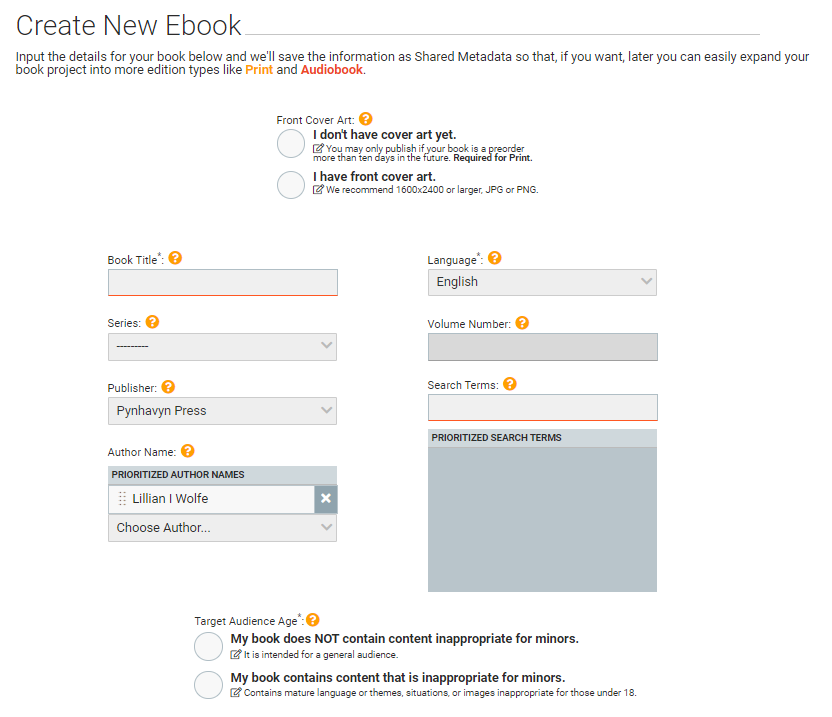 Create New Ebook page where you select cover art and enter book information.
You'll notice you don't need your finished cover to set up your book. This allows you to use a placeholder and save your draft book here as a backup while finishing the editing. If you're designing your own cover on BookBrush, a few tips on using fonts are in this blog post, Six Typography Tips for Graphics and Book Covers and a Book Brush webinar shows you how to create your cover.
Ebook Details Screen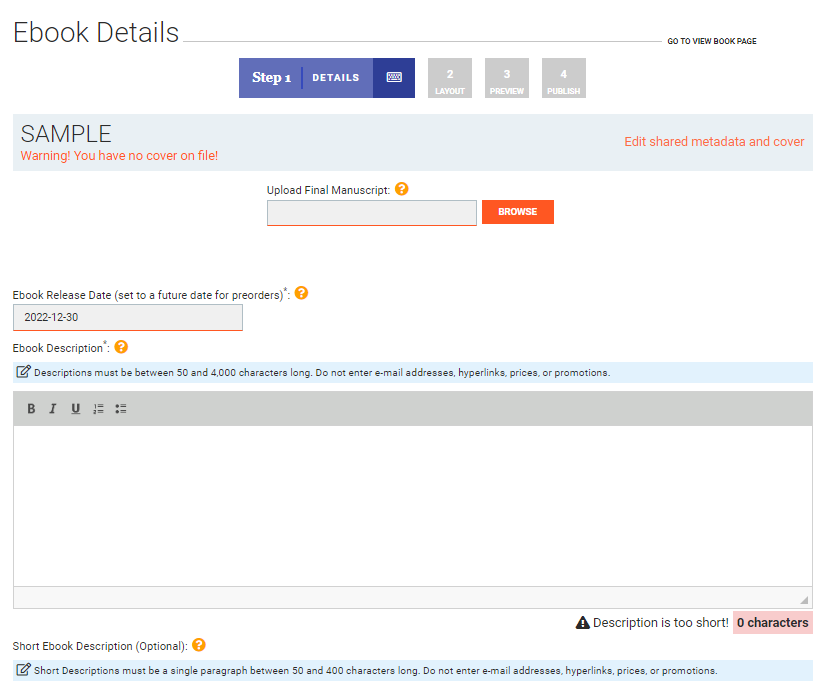 Enter book details and author details.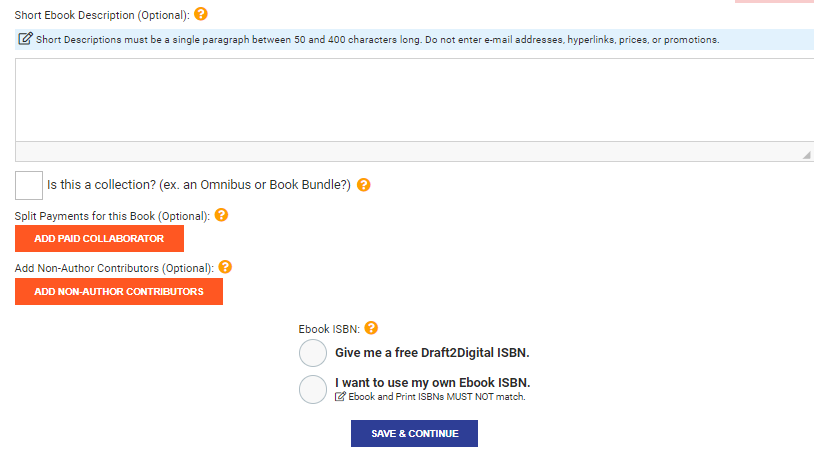 Enter a short description. This is used on the Smashwords sales page.
Choose if you want to use a free D2D ISBN or if you want to use your own ISBN. If you're publishing an eBook, use the free ISBN. If you're creating a paperback, decide if you want to use your own Bowker-purchased one. The difference is in the name that shows as the owner of the ISBN number. A free one will show D2D. This doesn't mean they own your book, only that you used one of their ISBNs.
Multiple contributor royalty split – If you co-author a book or do a group author book, you can set up the royalty split so long as all the authors have a D2D account. This way, one person isn't dealing with the finances and sending payments to the others.
Ebook Layout Screen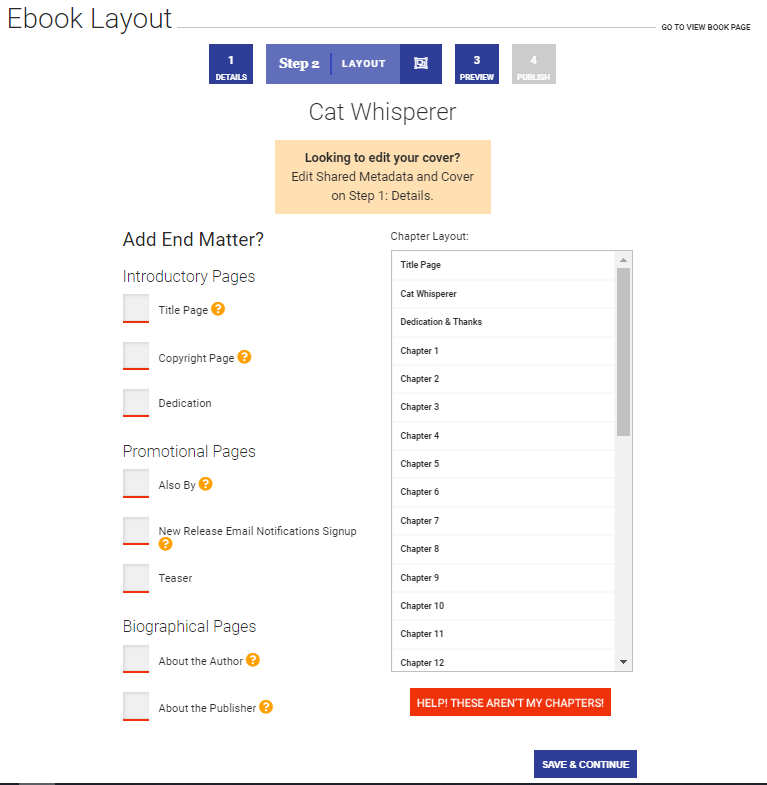 Shows End Matter options and detected chapters.
Automated end matter – Enter your biography and copyright information once, select the type of end matter at the chapter verification, and D2D will insert it into your book. These are found under account settings.
Automatically finds your chapter headings – If you don't use WORD headers to designate your chapters, you can make them bold, specify as a chapter, or set them apart in some way for the AI to identify them as a chapter. It will show your chapters if it finds them. If not, click on Help for additional information.
Various book layouts – D2D offers various book layouts with embellishments for general and specific genres. If you're very good with WORD, you can lay out your own book, but this makes it easy.
Ebook Preview Screen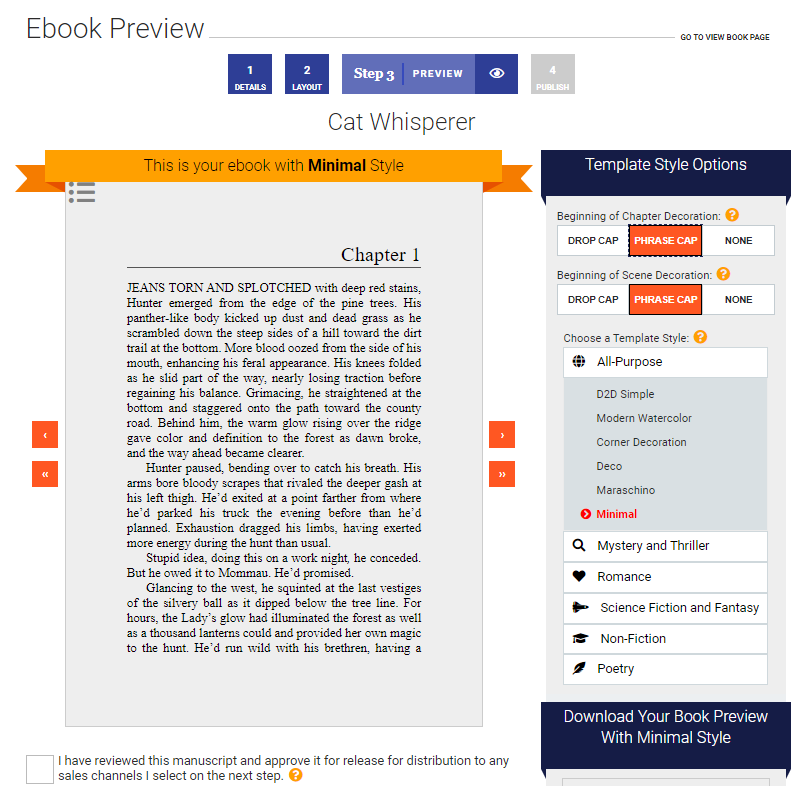 Shows what your eBook will look like and your download options. On the right, you can see a list of selections for format style. Once satisfied with your eBook, you can download copies to your computer in mobi (Amazon), ePub, and PDF. Since Amazon is now accepting ePub, you can use it to upload your formatted book to Amazon.
Ebook Publish Screen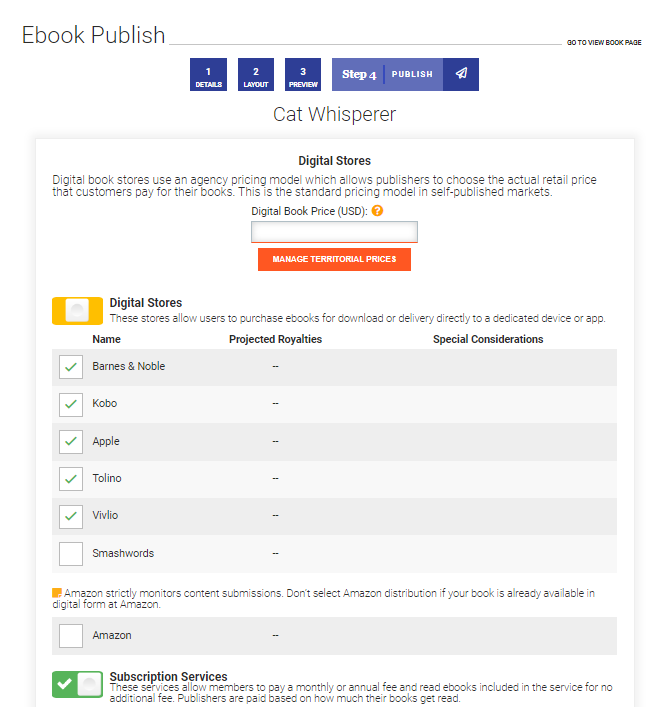 Set your sales price and see your royalty amount. Choose the distributors and library services you want to send your book. The subscription and library options are also on this page.
View Book Screen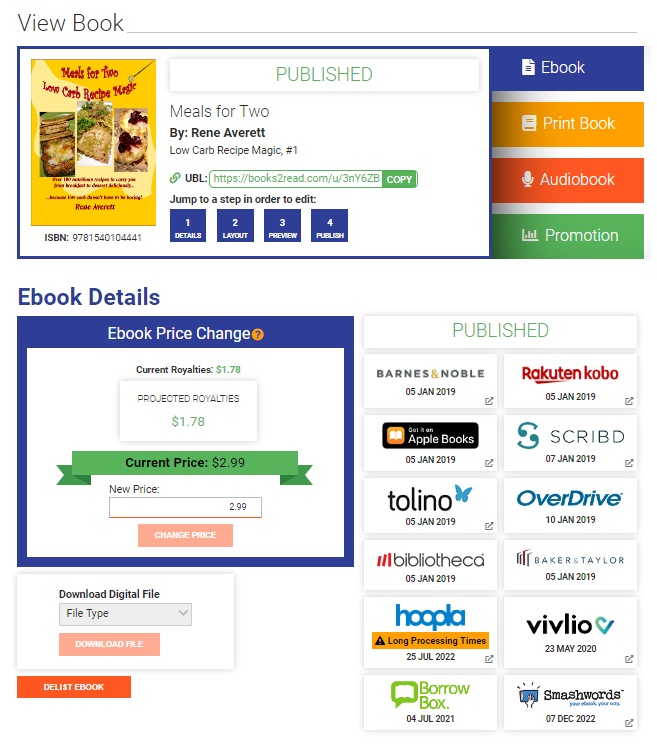 Once the book is published to the selected vendors, it will show under the Published header with the date it was published.
Universal link (UBL) for books – one link to connect to all. This is a Books2Read link to a page with all of your distributor links.
Pre-schedule price promotions – If you want your book to go on sale on a specific date with all distributors and end on a selected date, you can schedule it.
Cons of Draft2Digital
Of course, it has a few negatives:
If you are using Kindle Unlimited, you can't use it or any other non-Kindle service.
Formatting is not friendly to comics, photo books, or anything else with unique layouts.
POD paperbacks are not as high quality as Amazon produces.
D2D only accepts WORD files, RTF, and epub formats.
If you're considering expanding your distribution, I believe you'll find Daft2Digital a valuable option to make it happen quickly. One upload sends it to everyone. Isn't that easy?
---
Article by Rene Averett
When she was eight, Rene stepped into the magical land of Oz, reading the whole Oz series and falling in love with fantasy. Imagination ignited; she began writing stories. Since then, her reading tastes have expanded to include science fiction, thrillers, espionage, mystery, and so many others. In short, she likes any well-told story.
She writes sci-fi/fantasy under Lillian I. Wolfe, suspense romance and soon, cozy mysteries under Riona Kelly. Low-carb cookbooks are under her own name; all published under Pynhavyn Press. She is a member of the High Sierra Writers group in Reno, Nevada. When she's not writing or cooking, she plays guitar and games, draws, and watches movies accompanied by her feline overlords, Emma and Vala.
You can contact Rene or learn more about her and her books at http://www.pynhavynpress.com/