Easy Business Card Design For Graphically Challenged Authors (Plus Amazing Templates)
Most authors carry around business cards for book events and conferences, doling them out to other authors and readers. They're handy for networking "remember me" moments, cheap to print, and easy to distribute. You'll see tons of them on conference tables, sometimes with candy stuck to them as an enticement for a second look.
But does your business card create a "remember me" moment? Are your cards getting tossed — even after all those hours spent stapling mints to the back — at the end of a conference because they didn't attract attention? 
More importantly, are you getting new readers with your cards by using them as a promotional giveaway? If you win a reader at an in-person event, you've won a fan for life. Readers love freebies and discounts. How better to win them over than by offering them a sample of your writing as a gift? 

A business card — postcards, too — can be a fabulous marketing tool. Not to just share your website and social media addresses but for reader magnet giveaways, new release opportunities, and other marketing offers that you already do online. Book events are a great place to give free writing samples to tempt readers who might not be ready to commit to buying a paperback. 
But you don't need to wait until a book signing or conference to hand them out. You can carry them to the post office, shops, or doctor's office (I live in the South, where we hold conversations when we stand in line). When someone asks what you write, slip them a business card and offer them a literary test drive using your reader magnet.
Did you know you can easily and quickly design these wonderful marketing tools on Book Brush? Book Brush offers a variety of templates to aid graphically challenged writers. Take a look at the following template and marketing ideas for all your marketing glad-handing needs.
Before we start with the templates, you'll want 3D covers for your business card designs, so for quick results, upload your flat cover images first. If you're new to Book Brush, be sure to check out their post on how to use their 3D Book Cover Creator. You'll never struggle with converting your flat 2D book cover into a 3D image again. Here are the basic steps:
Register for a

Book Brush account

Upload your 2D book cover from your computer

Choose a 3D template from the 3D Creator

Download.
So easy, right? Previously, I used three different online graphic programs (while watching a YouTube video) to make my 3D book images. I deleted those homemade 3D covers soon after discovering Book Brush. 
Simple Steps to Business Card Designs
After you've registered for a Book Brush account, choose Custom Creator at the top of your screen. 
Within Custom Creator, tap on "Ad Size" in the left column. 

Under Popular Sizes, you'll see a collection of boxes. Choose the box labeled "card."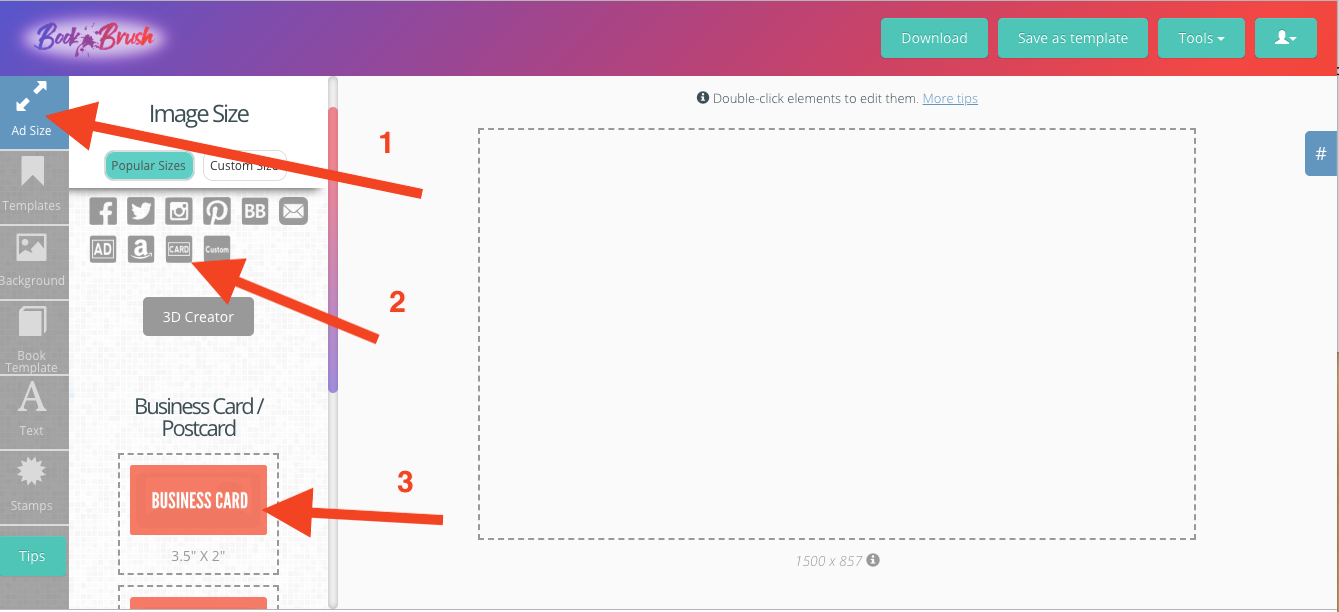 Beneath the box that states "3D Creator," you'll find the three card sizes. 
Tap on "Business Card." 

Click on "Templates" in the left-hand column. 

Choose "Community Templates" in the template column. 
OR as an alternative for those steps, in

Book Brush's Custom Creator

, simply tap on the "Tools" box (green box on the right side of the header) then "Community Templates" in the pull-down menu.

Tap "Filter."

The filter will give you options based on genre, platform, description, 3D Image, and their partners. For our purposes, under "Platform," choose business card, then tap the "Show Filtered Templates" button.

Voila, more than 10 business card examples for marketing.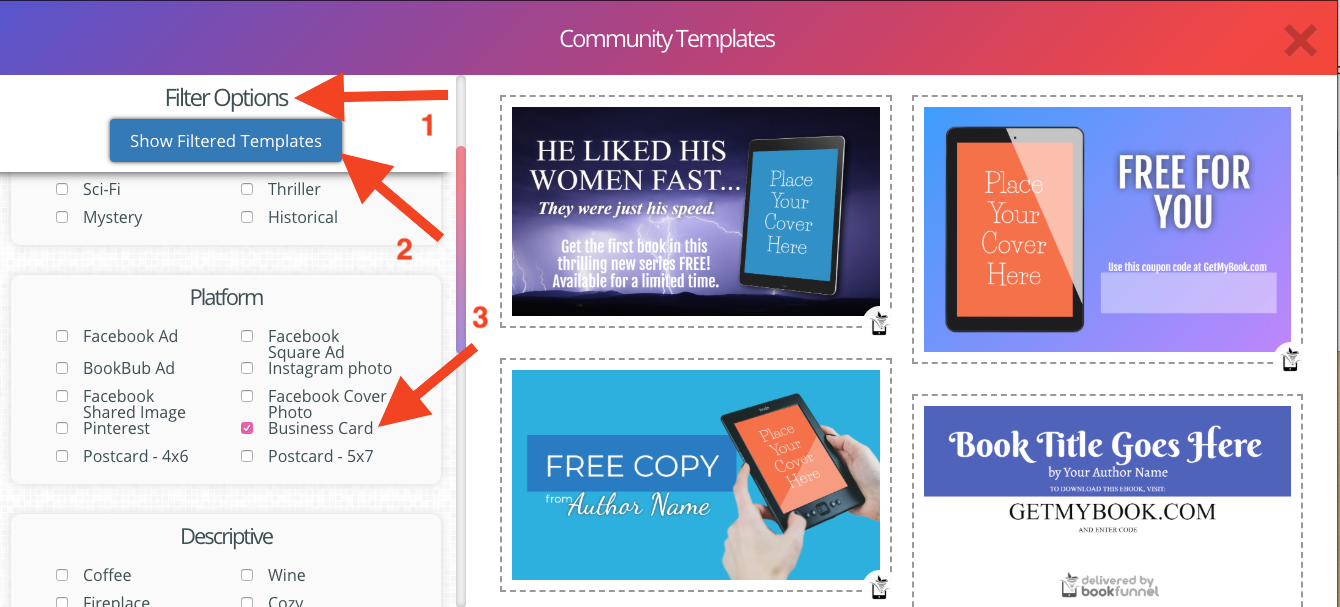 What you'll find is NOT your usual business card. These templates are purposed for advertising lead-magnets, promo codes, and other types of book giveaways. 
Reader Magnets
If you're not familiar with reader magnets, they are a free gift given in exchange (hopefully) for the reader signing up for your mailing list or to entice them (hopefully) to read the rest of a series or your other books.
Why would you give away a book? For the potential reader, it's a free taste of your writing. Like the free nibbles at the supermarket, you're hoping the reader will want more of your product after reading your freebie. The gift doesn't have to be a book. A short story or novella will work, too.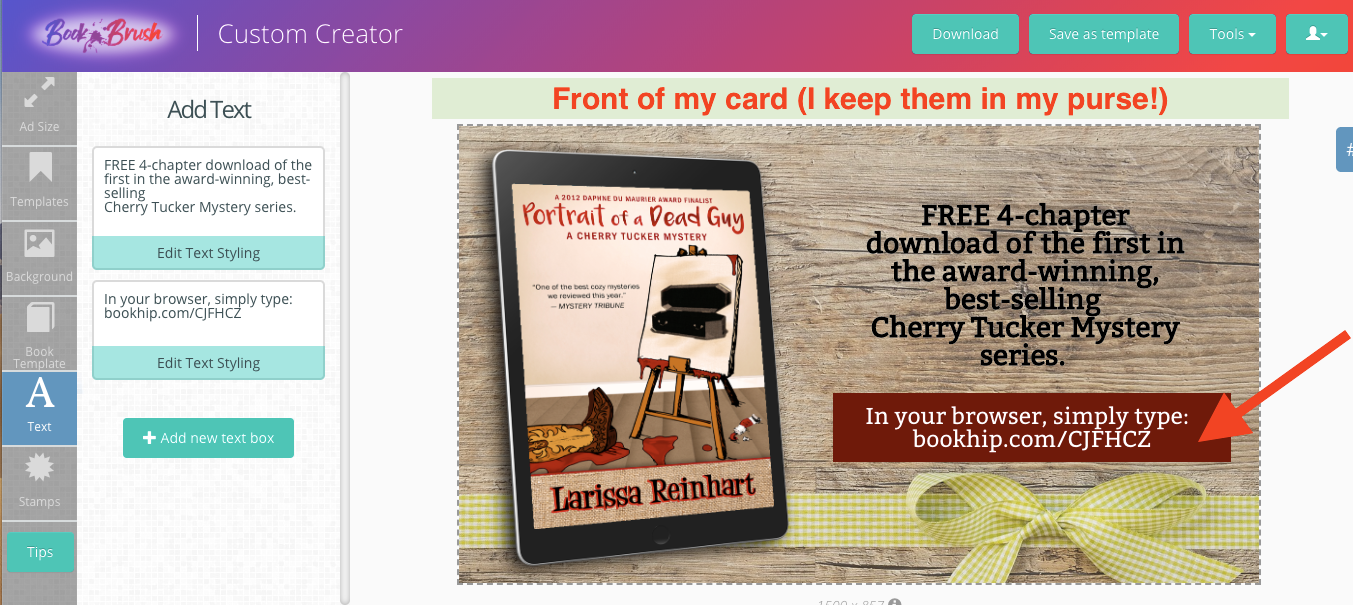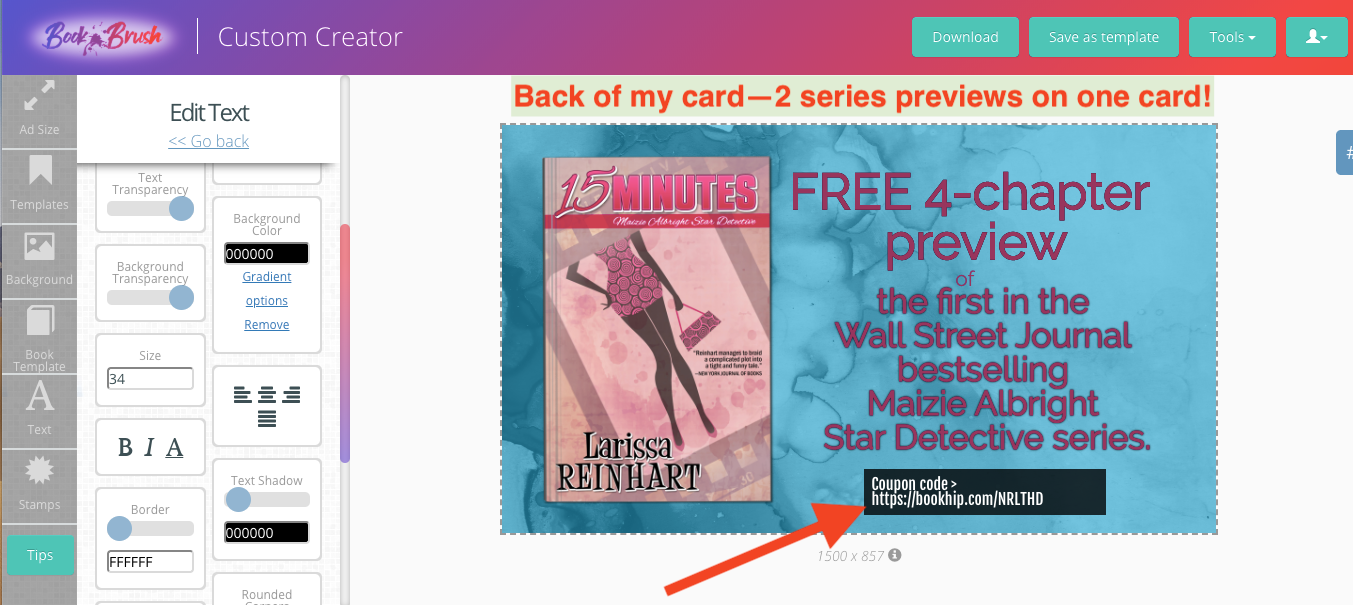 Other Reader Magnet Ideas
Character profiles.

Maps.

Sketches of your characters, meaningful objects, or scenes.

Recipes (accompanied with a description of why they're significant to your story).

A book or series directory.

Flash fiction that relates to your series or brand.

Chapter samples.

A free first-in-series that's already available in stores (see the permafree hints below).

I've even given my mailing list alternative scenes to accompany a re-release in one of my series.
However, be sure your reader magnet is relevant. The story or other writings should relate to your series, other books, or characters. Also, make certain it's well-written and has a great hook that entices readers to want more. Embed links to your mailing list signup and full books in the selection. For the lead magnet to be of value to your readers, it should be professional looking—edited, proofread, formatted properly, and have a good cover. 
The alternatives that aren't stories (maps, character profiles, etc.) can still serve to attract new readers but tend to work best as giveaways for current fans. Never forget your fans!
Business Card Templates for Mailing List Reader Magnets 
If you decide to use a lead magnet to attract new readers for your mailing list, you'll need a delivery device for your gift. Like many authors, I use Bookfunnel, a paid book delivery service. On Bookfunnel, I upload books, excerpts, and stories and create download pages. Bookfunnel provides me a link to give to my readers so they can download the story to any device. In the interest of full disclosure, Book Brush is partnered with Bookfunnel.
I've been using Bookfunnel since 2016, originally as a way to deliver advance reader copies to reviewers. I've also used Instafreebie (now Prolific Works) to deliver reader copies and MyBookCave for reader magnets. 
Check them out to see which one is best for you. I don't recommend sending a reader magnet by email. Although nothing is foolproof, sending a document by email is the simplest way for piracy to happen. Why make it easier for someone to steal your work?
If you're a new author and have an email service that can auto-deliver an email with the Bookfunnel link, you can easily start with Bookfunnel's $20 plan. It allows for one pen name, five hundred downloads a month, up to five books, and the option to enter group promotions. Most email newsletter services will enable you to create a landing page where readers can sign up for your mailing list. When readers do this, have your newsletter service automatically trigger an email to the reader with the book download link created by the book delivery service, like Bookfunnel.
I'm on Bookfunnel's $100 annual plan, which allows for unlimited book storage, two pen names, 5000 downloads a month, watermarked files, and collects reader email addresses. Not only do I create download pages with links for reviews and giveaways, I also use their print codes for in-person and snail mail delivery giveaways. More on that later!
Let's take a gander at the Business Card Community Templates. 
Follow the steps above in Custom Creator to choose a business card in Ad Size. 

Tap on Templates, then Community Templates. 

OR in

Book Brush's Custom Creator

, simply tap on the "Tools" box then "Community Templates" in the pull-down menu.

In Community Templates, use the filter for business cards.

I chose the third template for a reader magnet giveaway, but you'll see there are several to choose from.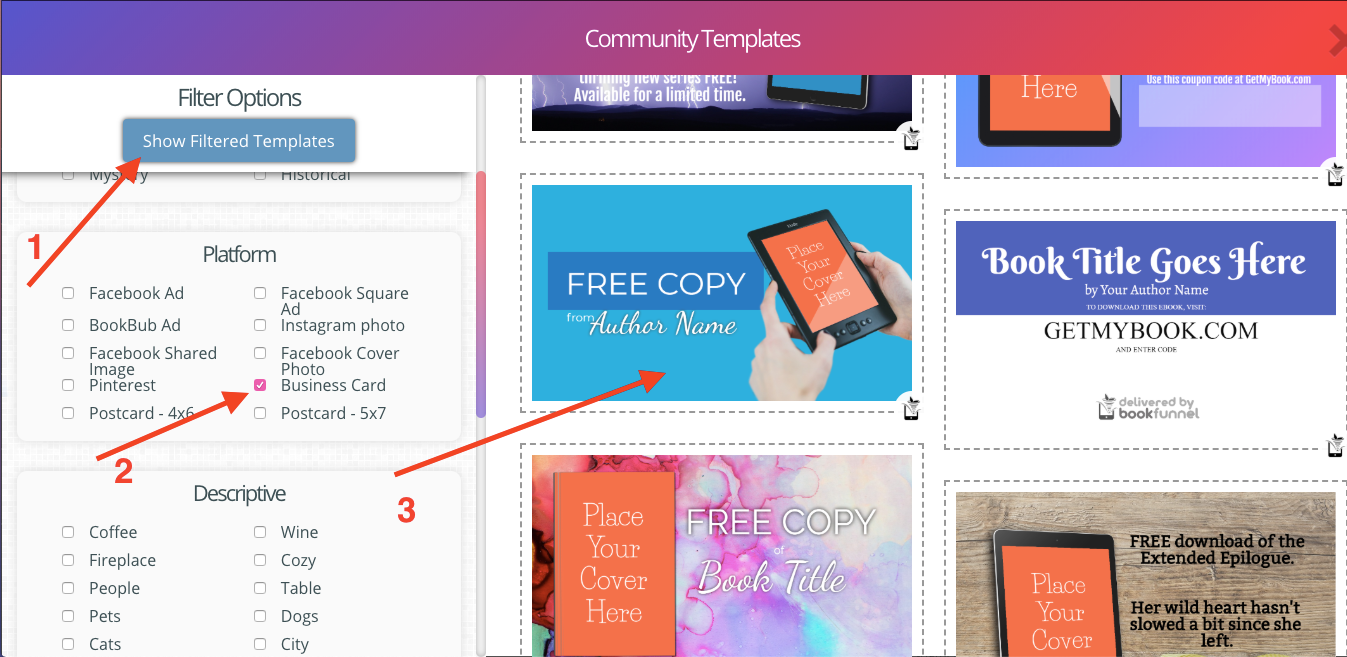 Notice when you hover your mouse over the image of the hands holding the device, a small lightning bolt appears at the bottom. If you tap on the lightning bolt, Book Brush will present your 2D book images so you can substitute the template cover for your own. 

If you haven't uploaded your 2D book cover for your reader magnet, you can do that now by clicking in the "Drag & drop image or click to upload" box (

or follow the steps outlined in this blog

)

Tap on the book cover you're using for your reader magnet.

Shazam! Your 2D covers appear in the device as a 3D image (I love that!). 
Now to change the text. 
Click on "Text" in the far left column. 

The Add Text column appears with prepared boxes.
This is not the time for anonymity.
In the third box simply highlight or delete "Author Name" and type in your pen name. 

If you have a name like mine, you'll have to adjust the size of the font.

Click "go back" at the top of the Edit Text column.
Notice the empty box at the bottom. I'm adding my reader signup address in this box. I'll have to make adjustments to the size of this text box and move around the others. 
Type your website address in the empty box. If the text doesn't immediately appear, just use your return key and it will pop up. 

Move this text box to an appealing spot in the image space. 

Adjust the font size and alignment.
You're basically done. That took less than two minutes from start to finish. However, let's sharpen the design. Book Brush uses Fjalla One as their default font. Too many fonts make a graphic hard to read. I want my website font to match the "Free Copy and "from" font.
Helpful Hints for Text Styling 
Tap on the "Edit Text Styling" in the "Free Copy" box in the left column.
The font used is Montserrat. Notice "text shadow" hasn't been applied.

The background color for the font box is blue. Helpfully, the color code (2A7BC2) is listed. Copy the color code with edit>copy or Control C.
Make your web address look the same as the other text on your card.
Click "Go Back" at the top of the column.

Tap "Edit Text Styling" on your web address box.

Change the font to Montserrat.

Paste the color code into the Background Color box.
The font boxes are now congruent. 

Text Feature Details
Let's make that link to my email signup pop. These are some of my favorite features on Book Brush.
Make the text box solid by moving the "Background Transparency" slider to the far right.

Give your website definition by adding a little shadow. Move the "Text Shadow" slider accordingly.

Add dimension to the text box by sliding the "Background Shadow" button to the right.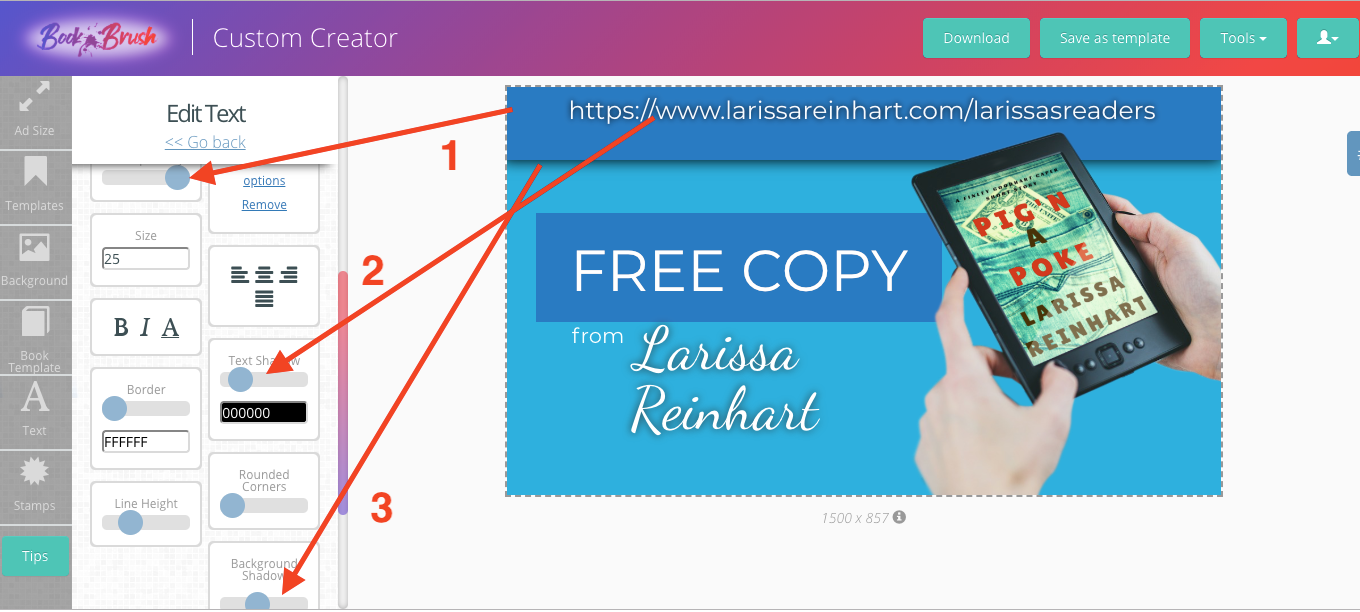 You're done! 
Using the buttons in the Book Brush header, save your business card as a template or simply tap "Download." 

Your card is ready to be uploaded to a printer.
If you want to put other information on the back, use the business card size in "Ad Size" as a template. Simply use the "Add Text" feature to create text boxes for your contact information. Use the same font for ease of reading.
Helpful Hint for Uniform Background Color
If you want the same background color as the front of the card, double click on the background. 

OR click "Background" in the far left column, then "Edit Background" in the blue bar at the top of the Background column.

Notice the color code in the Background Color box. Copy the code (2CAFDE) to match the background color on the back of your card.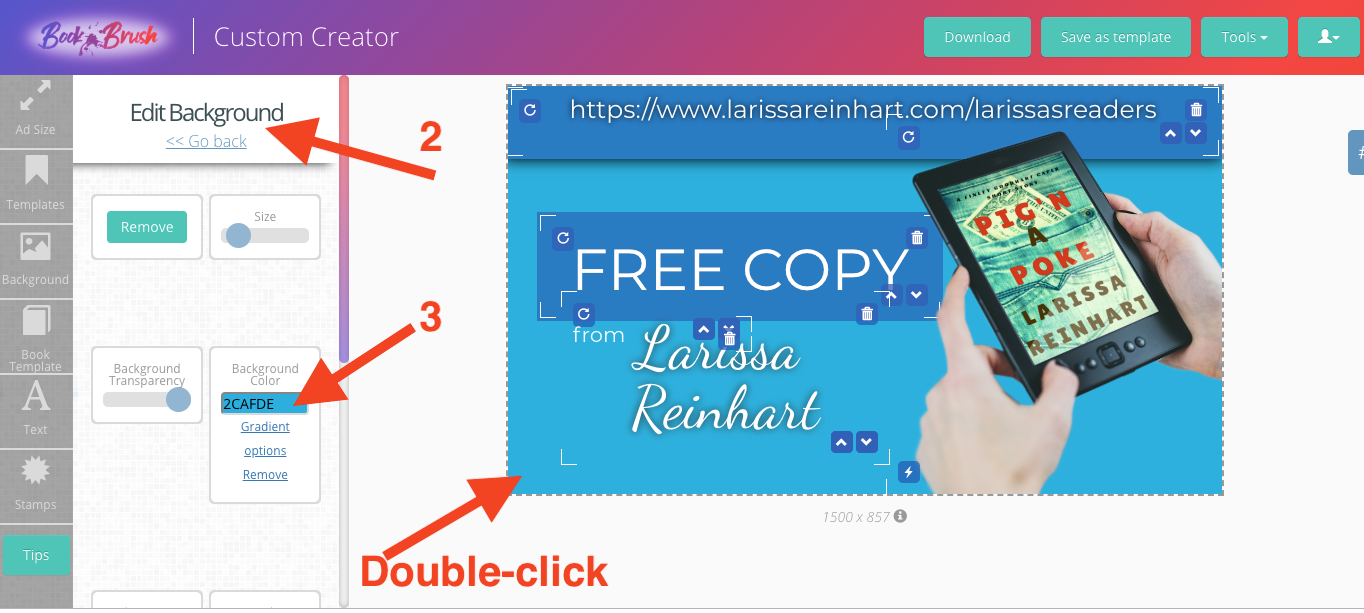 Business Card and Postcard Designs For Giveaways
I love, love, love using physical cards for reader giveaways. Because I'm a Bookfunnel customer, I take advantage of their promo codes for giveaways at reader events—both in-person and online. The physical aspect of having a printed card makes for a more memorable gift. My readers love getting something by snail mail. I can slip a card with a download code into an envelope with a bookmark or other swag for the price of a stamp. It's cost-effective for me and allows for a more personal gift than an emailed gift certificate.
Book codes are another Bookfunnel feature, allowing authors to generate codes for their books uploaded to Bookfunnel. The individual codes are used by readers to download your book by entering the codes at GetMyBook.com or MyBookCode.com. Bookfunnel benefits readers by walking them through easy steps to download your gift to the device of their choosing. For the author, these codes are unique, trackable, and single-use. The reader has two weeks to use the download. And unlike sending a gift certificate from an online store, these can't be cashed in for something else. 

Bookfunnel allows authors the option to collect email addresses with these codes. Not only is it a way to gift a book to someone, they can also act as a reader magnet for your mailing list.
In

Book Brush's Custom Creator

, tap on "Tools."

Find "Community Templates" in the pull-down menu. 

Check Business Card.

Tap "Show Filtered Templates."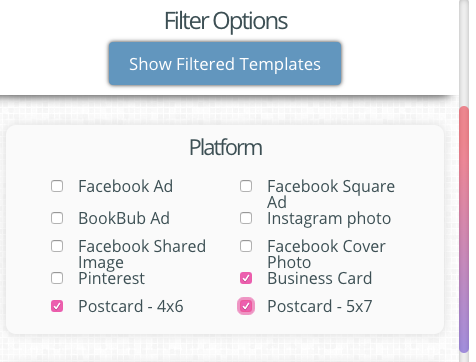 Note the top two cards on the right. They both have a space for a GetMyBook.com coupon code.
Helpful Hints for Promo Codes
Prepare your printed cards before downloading your codes. I recommend waiting until a day or two before the event to print the codes because of the expiration. If there's not a enough room for a label on the front of the card, stick it on the back.
Make a Promo Code Giveaway Card
Let's whiz-bang a promo giveaway card for your next reader event, book conference, or Facebook party. 
Page down to the fourth card on the left side and click.

Hover over the device image and double-tap (or tap the lightning bolt icon on the bottom left side of the image).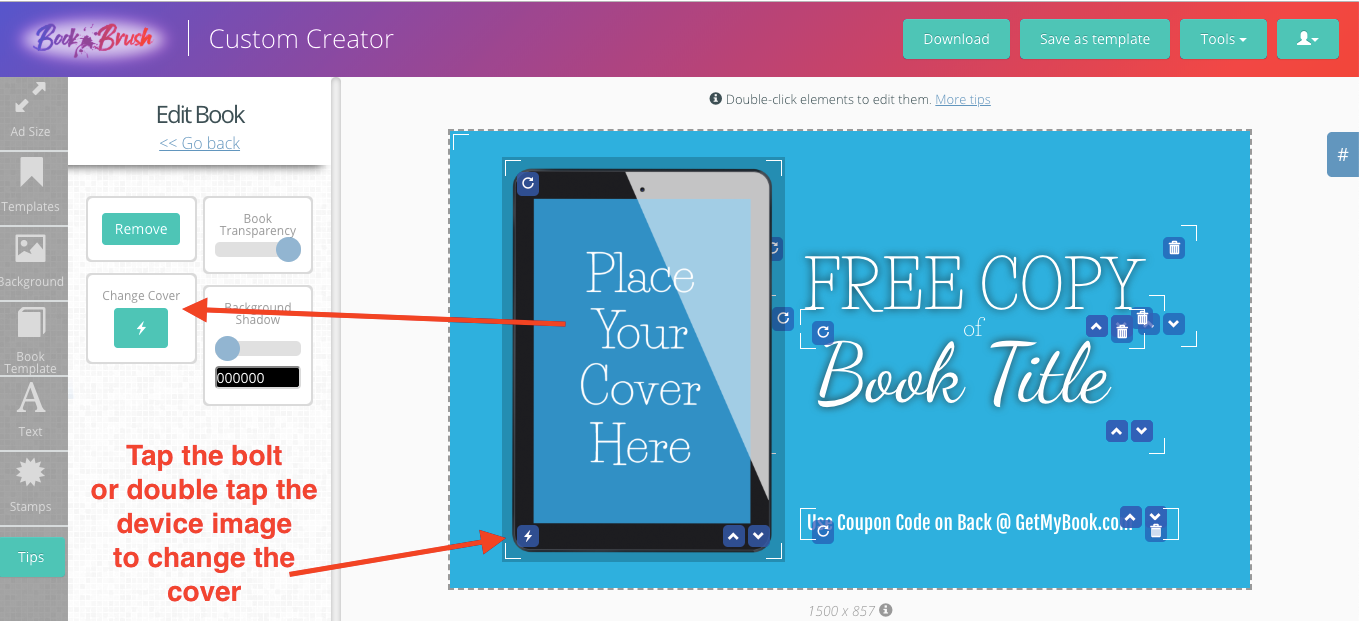 Find your cover and tap on it.

Click on Text in the far left column. 

Find the "Book Title" box, double-click or delete, and type in your title.

Tap "Edit Text Styling" beneath your title.

Adjust the size of the font.

Center the text by moving the textbox on the card, if needed.

And…you're done.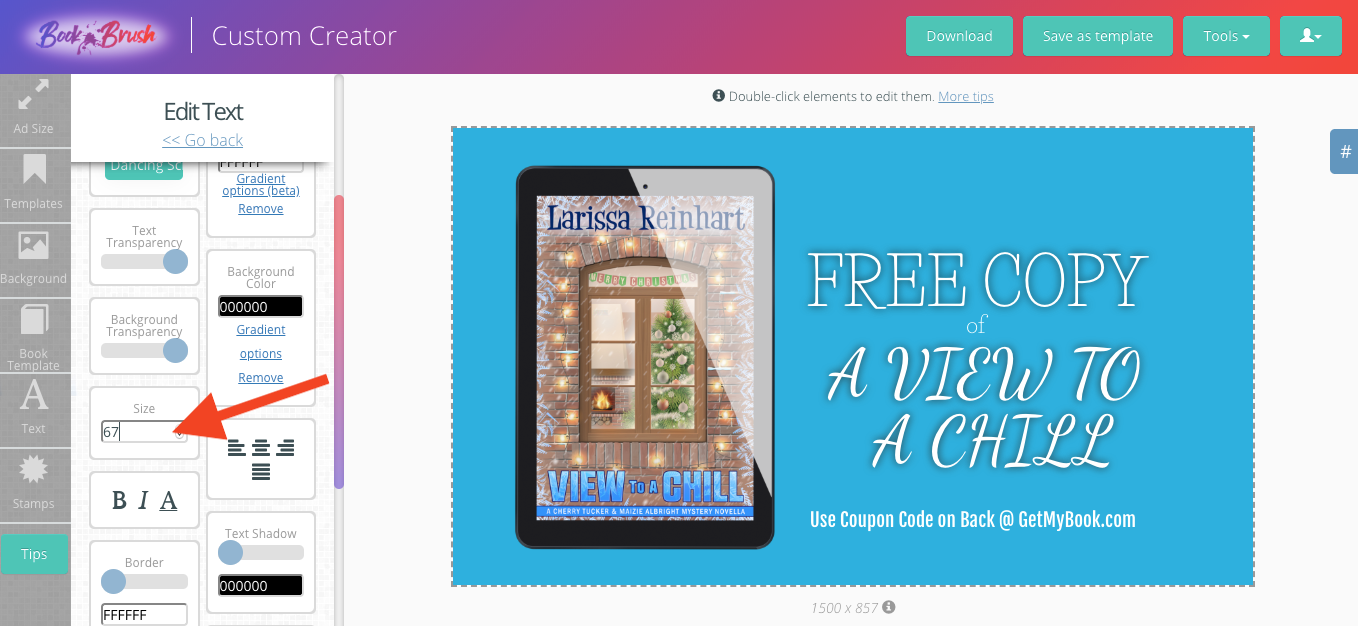 All you need is the promo code from Bookfunnel. But again, wait until the event so the codes don't expire.
Helpful Hints for Changing to a Gradient Background Color
The blue background goes well with my book cover, but you might need a different color to complement your cover.
Double-tap the background so the edit background options screen appears. 

The gradient option can add an interesting element to your background. Click on gradient, then the color code boxes to change the color to suit your cover.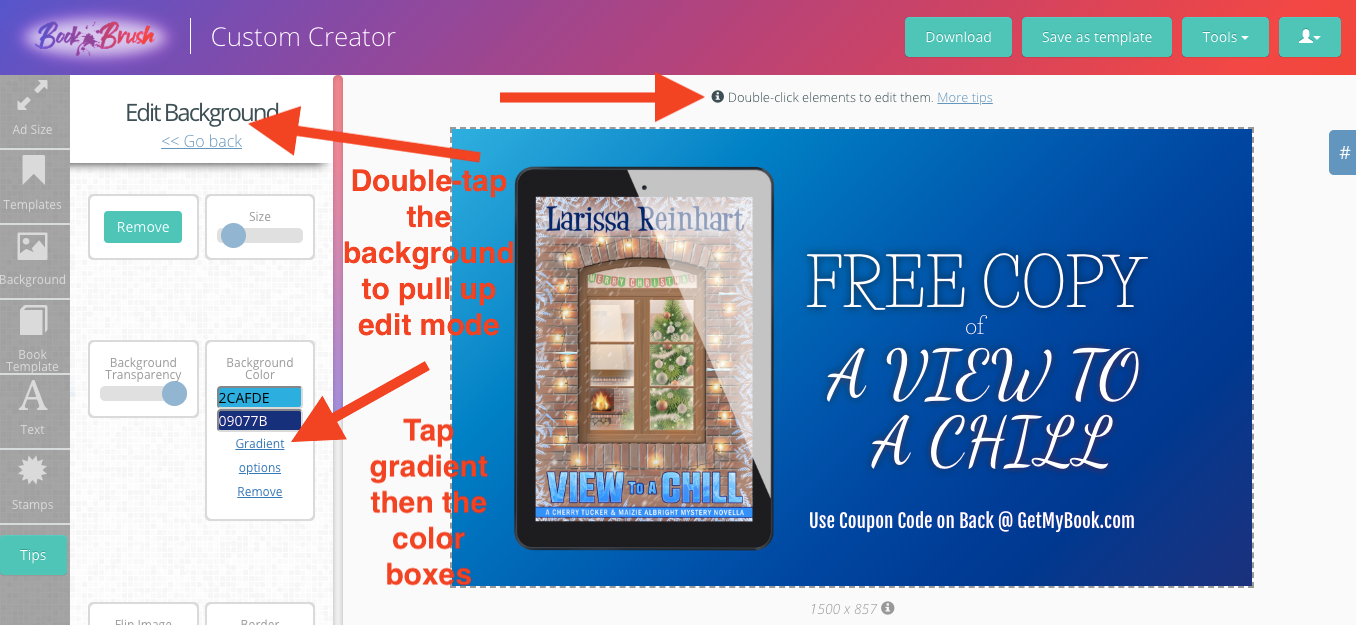 Helpful Hints for Adding Depth to Your Background
Perhaps you'd like a background element to lend some visual texture to the card. You want the book cover and text to be prominent, so I would refrain from anything too busy. Also, when printing a card, be wary of print quality issues. You'll note that the Book Brush templates mainly use a solid color or simple design for this reason.
However, I'm going to throw print quality caution to the wind and add a background element. After all, if the background appears problematic in the printer's proof, Book Brush is so simple to use, I can download a new card within five minutes. I'll simply save my card as a template, delete the background, and replace it with a solid color.
My book gift is a holiday mystery. I'm attending two book signings in December and I'll bring cards with me to give to attendants. The perfect holiday surprise for new readers! Because the story takes place during a winter storm, I want to add a winter-themed background element, but again, something simple that won't distract from my book cover and text.
Tap on Background in the far left column.

I typed "snowflake" in the search box and paged down until I found an appropriate image.

Because I want the image to recede, I double-clicked on the background to pull up the "edit background" screen (or click "edit background" above the search box).

I toggled the background transparency lever until my background gradient colors appeared.

Now I have subtle icy snowflakes in my background. 

My text and cover are still prominent, but the card has some depth and will be a pretty gift for new readers!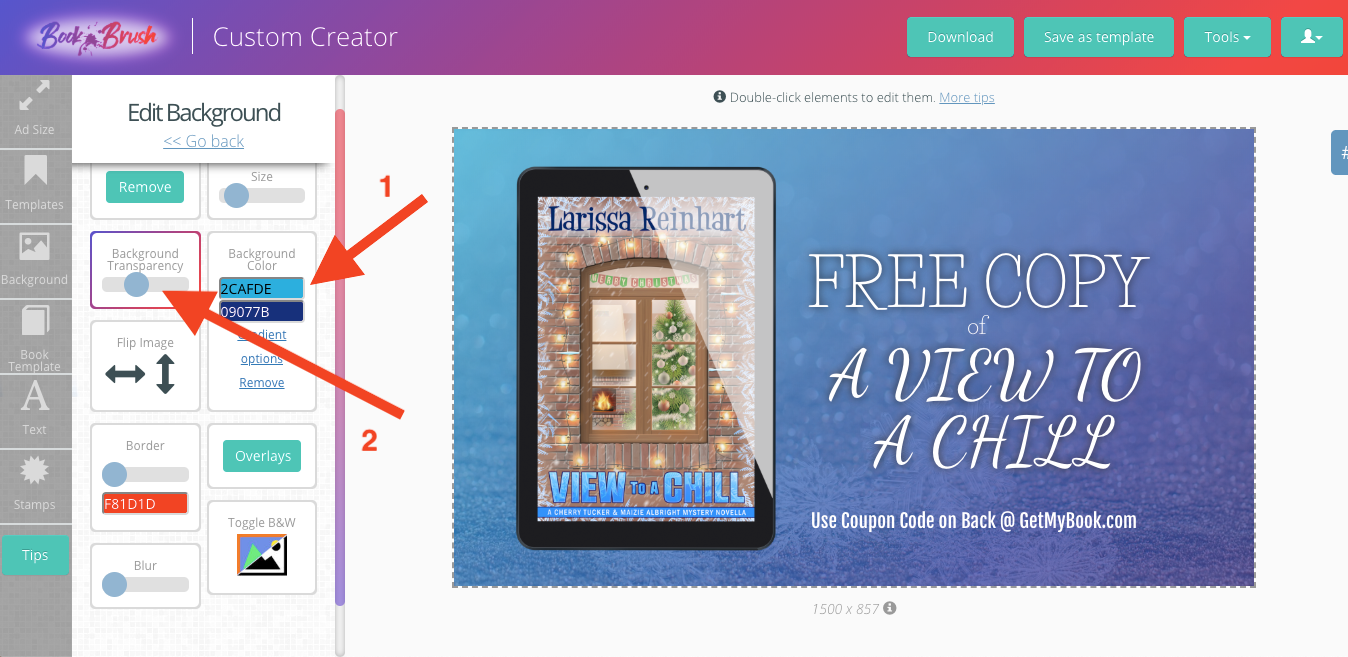 Helpful Promo Code Tips: 
Use a label sheet to print off the codes and stick them on the cards. 

Remember to only make as many codes as you're willing to give away at one time because they do expire. 

Write the expiration date on the card (or tell the reader). 

Remind the reader they have two weeks to download the book after entering the code.
And remember, you don't have to gift an entire book. You can give a novella, short story, excerpt, or even flash fiction. 
For Bookfunnel's file upload, you'll need a cover and a .pdf, .epub, or a Kindle file (.kpub or .mobi). For something small like flash fiction, you might find it easiest to convert your word document to a .pdf document.
Business Card Templates for Advertising Your Permafree or Discounted Book
Many authors still use the pricing strategy of making their first-in-series free to garner reader interest for the rest of the series. Used in this way, the first book — or even a prequel novella — becomes a reader magnet. As a marketing strategy, it works similarly as lead-magnets for your mailing list, except the book is priced for free on distribution sites (Amazon, iBooks, Kobo, Nook, etc.). 
The strategy can be used temporarily — to build a readership before launching another in the series — or permanently (permafree) to continue gathering new readers into your book-world fold. Either way, having a card with your permafree displayed is another physical gift to hand a potential new reader.
In

Book Brush's Custom Creator

, tap on "Tools," then "Community Templates" in the pull-down menu. 

Check Business Card and tap "Show Filtered Templates."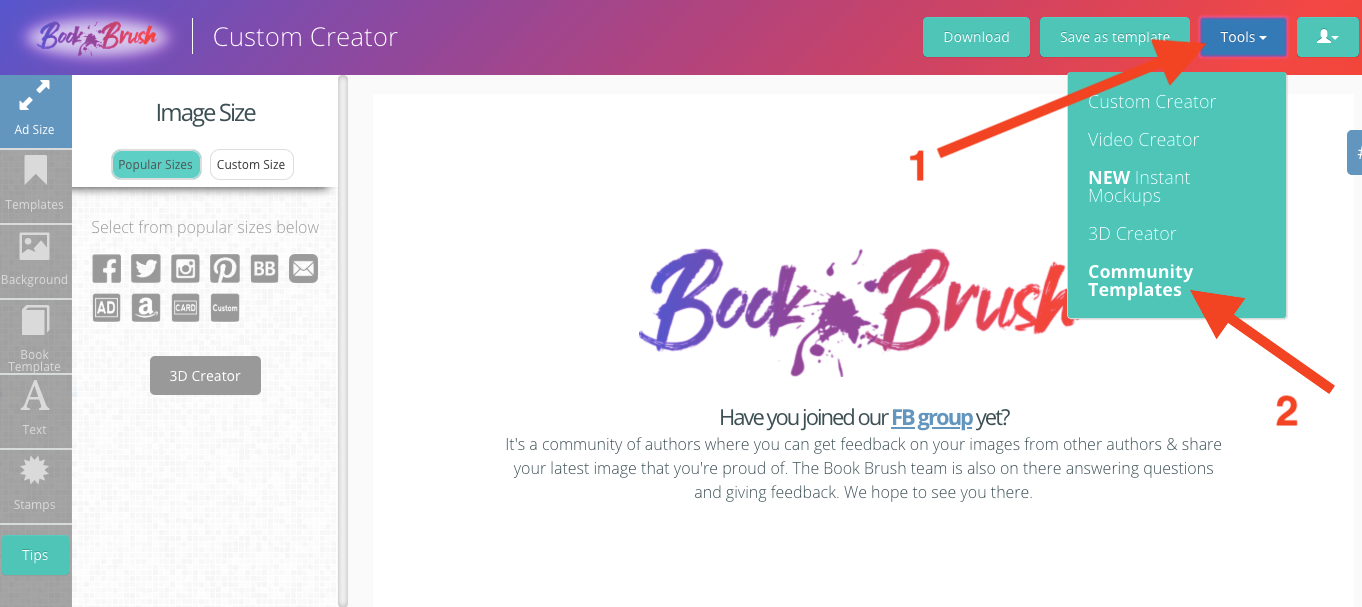 The first template on the left is a great example of how to show off your temporary or permafree book (I love the tagline on this one). Perhaps you don't write motorcycle romance or speed-demon thrillers, but using this template is the quick and easy way to make a permafree card that fits your book and genre.
In community templates, click on "He Liked His Women Fast…"

Hover over the 3-D device and tap the lightning bolt to change your cover.

Choose your cover.

Tap on Text in the far left column.

Use the premade text boxes to insert your tagline.

Adjust the size as necessary.

Use the empty boxes to add more text OR tap on their boxes in the card and click the trashcan to delete.

Voila!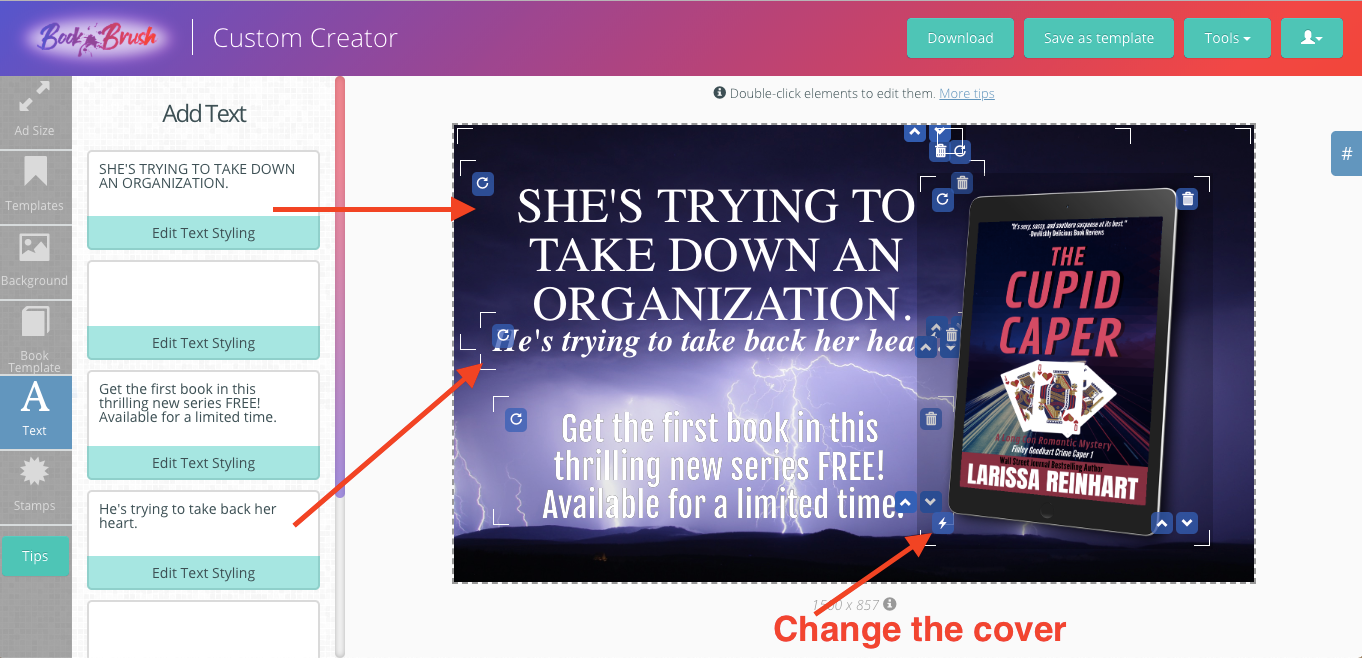 However, this background doesn't quite fit my genre or the book. Here's an easy way to make both work and a great tip for your other book ads as well.
Helpful Hints for Using Your Book as a Background
Tap on Background in the far left column.

Tap on the "Upload Your Own" box. 

Find your book cover file on your computer and tap the add button (or drag and drop the image).

Click and drag the background to move it. I shifted my background until the title didn't show.

Click the blue "Edit Background" box in the Background column.

Adjust the size toggle as needed. I made the background larger to remove my cover's text from the image.

Adjust the Background Transparency by sliding the lever. This allows your tagline and call to action to become more visible.

You can also flip your image, toggle to black and white, or blur the image. I slightly blurred my image and toggled to black and white for readability. I want my tagline, call to action, and book to pop.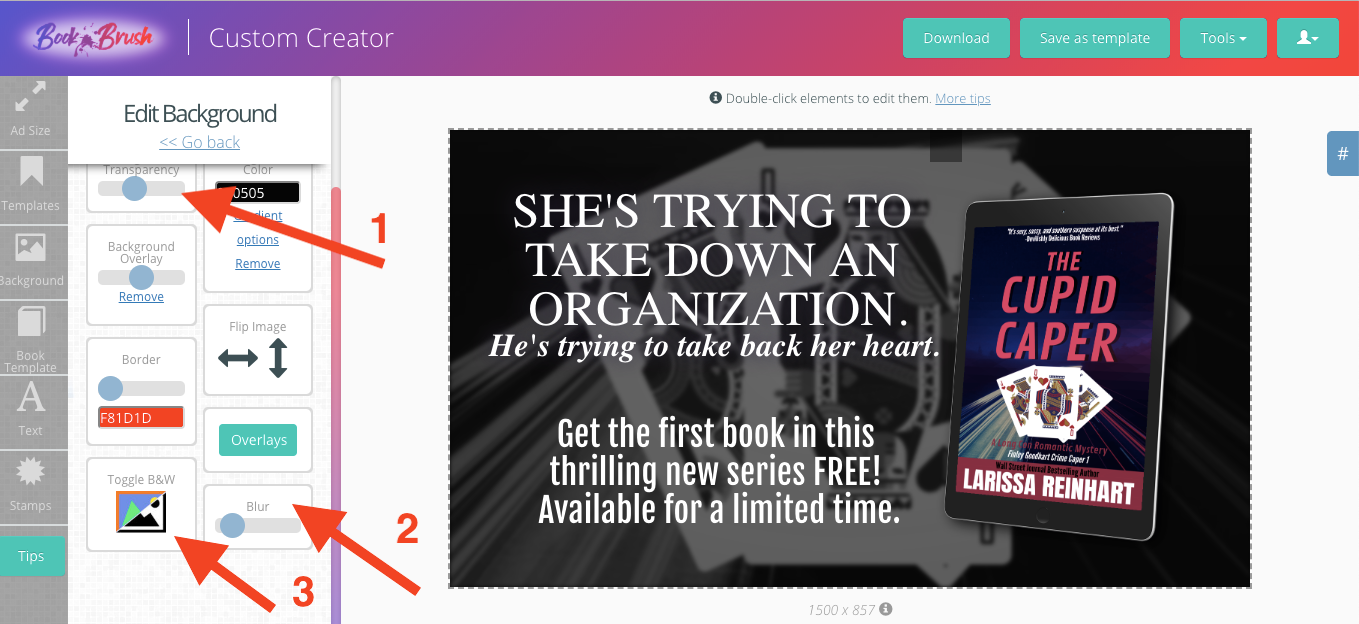 Easy Business Cards Designs for Book Promo
In-person events (or supermarket checkout lines) are an awesome way to meet new readers. Giving them a free sample of your writing is a powerful introduction to your book world. Handing them a beautifully designed business card with a promo code or web link to download your free story gives them a physical reminder of you and your books. The same holds true for online events. Readers appreciate authors mailing something to their home, plus the gift won't get lost in a cluttered email box.
Using a book delivery service combined with Book Brush's template designs makes these giveaways simple and cost-effective. A winning marketing strategy that readers will love.
Helpful Hints on the Size of Business Cards
Explore this post 'Business Card Size Guide' which provides a comprehensive understanding of the main concepts and ideas around business card sizes.
________________________________________________________________________________________________________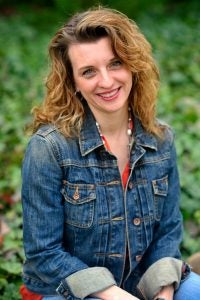 Article by Larissa Reinhart
A Wall Street Journal bestselling author, Larissa writes the Cherry Tucker Mystery, Maizie Albright Star Detective, and Finley Goodhart Crime Caper series as well as romantic comedies and women's fiction. She loves to tell funny stories about Southern women looking for love (and sometimes dead bodies) in all the wrong places. She's also obsessed with playing with graphics which is why she loves Book Brush! Visit LarissaReinhart.com to learn more.