Create An Eye-Catching Author Facebook Cover Image With Book Brush
Do you ever scroll through Facebook and wonder what about your profile catches the eyes of a potential new reader? Is it your profile picture? Your content? While both of those things are very important to create your brand and marketing, but there is one specific item on your Facebook profile that needs to be a primary feature of your marketing plan.
The cover image.
While most people use it to show off a beautiful image from their personal life, yours can be beautiful and beneficial with a few clicks of your mouse. Book Brush provides you the tools needed to take your cover image to the next level. If you don't have a Book Brush account, you can register here.
Where to Start
Before Book Brush, creating a cover image was not that easy. Facebook updates often came with changes to sizes of cover images, leaving authors unsure of what size to use. With Book Brush, there is no guesswork. It's as easy as two clicks and you're ready to get started.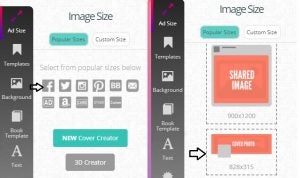 Community Templates
Now, that you have the correct size, it is time to get to work on the design. If you are new to cover photos, Book Brush has you covered with pages of community templates that you can easily modify with your book cover to fit your needs. There is even a large collection of various genres to choose from as well. It is very important to that if you are going to use a community template that you find one that fits your brand and marketing plans. For example, if you write fantasy novels, you do not want to pick a template that is a couple sitting happily on a beach. Cover images should be cohesive to your brand and genre.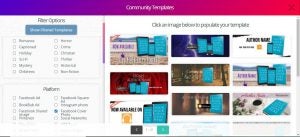 Here is an example of one of the available templates. This design is universal and can be used with any genre. This would be perfect for someone who is still establishing their brand.

Let's add in a cover. If you double-click the book template, you will get the following options.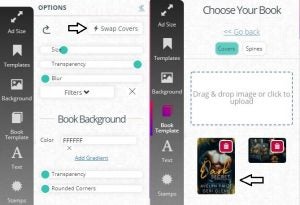 Once you add in your author name, and tag line, you go from simple to simply beautiful.

And, just like that, you have your first cover image. But what if you want something more tailored to your brand? While Community templates are a great way to create a beautiful cover image in minutes, you can create custom cover images as well.
Custom Cover Image Designs
Custom designs will not only enhance your brand marketing plan but will make your cover image stand out. With a few more steps, you can convert a community template or even start from scratch. If you have a color scheme or imaginary in mind, you can easily add images to your account to include in your design. Using the same tools as before, you can switch up the background, the font, and even the 3D book template. Let us take the same community template and customize it.

With customization, you cannot even tell that the first cover image was made using the same template as the new image.
With a little practice, you will be creating beautiful cover images with Book Brush that will wow your readers. The possibilities are endless with what you can do with the available software, and with the Platinum membership, you can take it to the next level with new upcoming features that are still in beta testing. What are you waiting for? Try it out for yourself.
Article by Avelyn Paige
Avelyn Paige is a USA Today and Wall Street Journal bestselling author who writes stories about alpha males and the brave women who love them. She resides in a small town in Indiana with her husband and three fuzzy kids, Jezebel, Cleo, and Asa. Avelyn spends her days working as a cancer research scientist and her nights' writing. You can often find her curled up with a good book surrounded by her pets or watching one of her favorite superhero movies for the billionth time. Deadpool is currently her favorite.
You can learn more about Avelyn's books on her website, http://www.authoravelynpaige.com, or joining her newsletter http://bit.ly/PaigeNewsletter.