5 Tips for Building Your Reader Audience through Price Promotion & Promo Stacking
For most authors, the ultimate goal is to get their work in the hands of as many readers as possible. However, in a saturated book market, getting noticed can be a challenge. Thankfully, indie authors have developed two powerful strategies—price promotions and promo stacking—to increase their chances of success.
By strategically planning a promo stack with a price drop, you can create buzz around your book, attract new readers, and boost sales. Engaged readers can provide valuable insights through book reviews, ARC feedback, and suggestions, helping you refine your writing skills and better understand your target audience's preferences. These readers can become advocates, sharing your work, participating in discussions, and even attending events, all of which contribute to expanding your author brand and attracting new readers.
In this post, we'll discuss five seamless tips for growing your reader audience, including leveraging the "bell curve" philosophy for multi-day book promotions that lead to sustained increases in your book's ranking.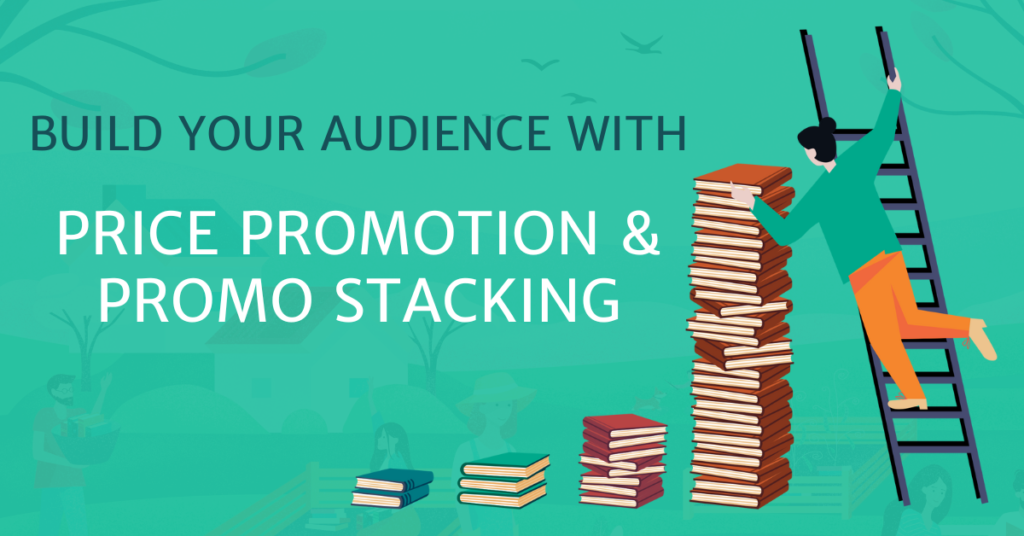 Tip 1: Plan Ahead
When building a promo stack, meticulous planning is crucial. Start by defining your promotion goals. Do you aim to boost sales, gather more reviews, or grow your newsletter list? Once you have clear goals, you can tailor your promo stack accordingly. Select promotional sites that align with your goals, target audience, and budget. Create a well-structured schedule that maximizes exposure.
Creating a promotional calendar is essential for a successful promo stack. Stagger your promotions across different platforms to optimize exposure and maintain consistent buzz around your book. Begin by scheduling the more challenging tactics first. To simplify the process, take advantage of ready-made promo stacks provided by platforms like Written Word Media, which streamline the scheduling of your entire stack.
Tip 2: Utilize Free and Discounted Promotions
Consider the pricing strategy for your book. Free and discounted promotions offer different benefits, so choose wisely.
Free book promotions excel at increasing exposure to new readers, as they are more likely to try out authors and genres they wouldn't purchase otherwise. Email promo lists generally have larger audiences of free readers, guaranteeing greater visibility. Offering the first book of a series for free is a proven method to hook new readers who will likely purchase subsequent books.
Discounted book promos involve offering your book at a reduced price to boost sales. While discounted promos may not reach as many readers as free promos, they are a reliable option for authors seeking a return on investment (ROI) for their advertising spend.
Tip 3: Skillfully Bundle Your Promotions
Bundling promotions is an effective way to build a robust promo stack. By scheduling multiple promotions to run simultaneously, you can reach more readers and generate substantial buzz. For example, if you secure a BookBub Featured Deal, it's wise to run promos with sites like Bargain Booksy & eReaderIQ concurrently. This amplifies the reach of your BookBub deal, further spiking sales and boosting your rank on retailer lists.
This bundling approach creates a domino effect, leading to increased visibility on major retailer sites and, most importantly, increased book sales!
To build buzz, reach new readers, and increase sales, take advantage of platforms like Freebooksy, Bargain Booksy, and Robin Reads, which offer free and discounted promotions for authors. Participating in these promotions can significantly benefit your book and help expand your audience.
Tip 4: Embrace Multi-Day Promo Stacks
In addition to bundling promotions for single days, multi-day promotions are excellent for increasing your book's rank on retailer sites and growing your audience.
While a one-day sales spike can be helpful, running a promotion over several days leads to sustained sales and a higher rank on retailer sites. This is where the "bell curve" concept becomes invaluable. By scheduling a multi-day promotion that starts with a lower price or a free promotion and gradually increases in price, you create a "bell curve" of sales that ensures sustained sales and heightened visibility.
Tip 5: Experiment and Track Results
Building a promo stack requires experimentation, as there is no one-size-fits-all approach. What works for one author may not work for another. Thus, it's essential to try different promotions, sites, lengths, and pricing strategies to find the most effective approach for your book and target audience.
During and after your promo stack, closely monitor the results. Keep an eye on your book's rankings, sales, and downloads, and diligently record them to assess the impact of your marketing efforts. Look for changes in KENP page reads, an increase in ratings and reviews, more email sign-ups, or a growth in social media followers. This data will help you refine your promo stack strategy for future campaigns.
In conclusion, building the perfect promo stack requires time and effort, but the results are worth it. By planning ahead, bundling promotions, utilizing free and discounted options, embracing multi-day promotions, and experimenting with different strategies, you can generate buzz around your book, expand your reader audience, and increase sales. Remember to apply the "bell curve" approach when scheduling multi-day promotions for sustained sales and increased visibility on retailer sites. Good luck!
---
Article by Mike Hourigan
Mike Hourigan is the Vice President of Marketing at Written Word Media, where he brings more than 15 years of digital marketing expertise to the table. His approach to marketing blends ecommerce best practices with a "growth hacking" mentality that emphasizes exploring new channels and testing innovative (sometimes off-the-wall) strategies. At Written Word Media, Mike is responsible for reader acquisition across the company's five email promo brands and he oversees product marketing for the advertising products that authors use to promote their titles.
Written Word Media is a sponsor of BookMARCon powered by Book Brush.